Page last updated
Wed 06 Mar 2019
The Freshwater Mussels (Unionoida) of the World (and other less consequential bivalves)
FM(U)otW(aolcb) is the web version of the MUSSEL Project Database. Follow the links to browse the data or use the custom Google search field. Either way, you win!
For each valid genus, the valid species are listed, Recent taxa first. Click here for the generic synonymy.
Search the database pages:
---
Bivalvia | Veneroida | Cyrenoidea | Cyrenidae
genus Neocorbicula Fischer, 1886: valid species
Neocorbicula bavayi (Ancey, 1880)
1 synonym
Range: [Neotropical]
Neocorbicula cuneata (Jonas, 1844)
3 synonyms | 1 specimen
Range: Orinoco Basin, Venezuela. [Neotropical]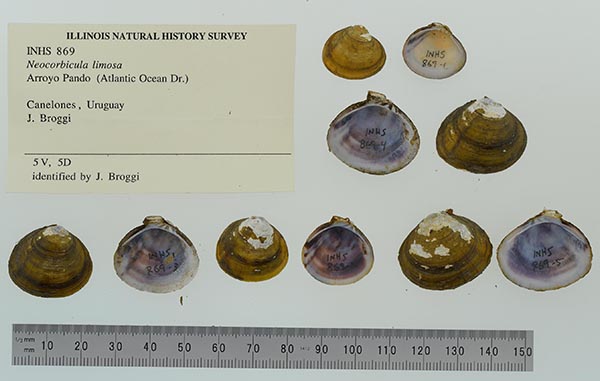 Neocorbicula limosa (Maton, 1811)
16 synonyms | 19 specimens
Range: Parana Basin and coastal Basins, Brazil to Argentina. [Neotropical]
Genbank sequences: 16S, 28S, COI.
Neocorbicula paranacensis (d'Orbigny, 1835)
9 synonyms | 3 specimens
Range: Parana Basin in Argentina, Paraguay and Uruguay. [Neotropical]
Neocorbicula rotunda (Prime, 1860)
1 synonym
Range: Surinam River, Guyana. [Neotropical]
Page updated: 13:02:11 Wed 06 Mar 2019