Page last updated
Thu 04 Jul 2019
The Freshwater Mussels (Unionoida) of the World (and other less consequential bivalves)
FM(U)otW(aolcb) is the web version of the MUSSEL Project Database. Follow the links to browse the data or use the custom Google search field. Either way, you win!
This page reports the specimens in the MUSSELpdb and provides a map if geocodes are known.
Search the database pages:
---
Bivalvia | Unionoida | Hyrioidea | Hyriidae | Hyriinae | Rhipidodontini | Diplodon
species Diplodon dunkerianus (Lea, 1856): specimens
1 nominal species as synonyms.
Range: Atlantic streams from Rio Grande do Sul to Rio de Janeiro, Brazil to Uruguay.
Map of Georeferenced Specimens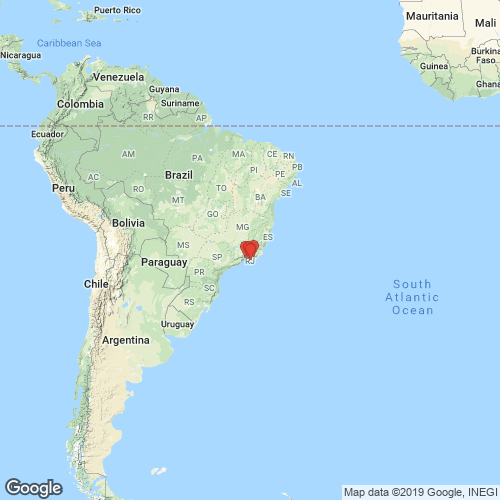 ---

Brazil


ZMB_MP_0315
Rio Negro, Brasilien


ZMB_40954
Serra do Tingua, Prov. Rio de Janeiro


SMF_3930
Rio Macacu, St. Rio de Janeiro, Bras.


BMNH_MP_029
[Brazil]


USNM_84154
Rio, Brazil


MCZ_MP.49
Rio de Janeiro, Brazil


ZMB_MP_0383
Rio Macacu, Prov Rio de Janeiro

PUCRS_MCP_8647 Brazil: Rio de Janeiro: Pinheiral: (Atlantic Ocean - Paraíba do Sul): rio Cachimbaú: Bacia do rio Paraíba do Sul

---

Colombia


USNM_84155
Rio Grande, New Grenada
Page updated: 10:13:32 Thu 04 Jul 2019