Page last updated
29 July 2011
John Pfeiffer visits the ANSP as a Jessup Fellow
John Pfeiffer, University of Alabama graduate student in the Graf Lab, was awarded a prestigious Jessup Fellowship to carry out research at the Academy of Natural Sciences of Philadelphia. From 13-24 June 2011, John studied SE Asian freshwater mussels and got his feet wet in full-on museum research. The report of his adventure follows.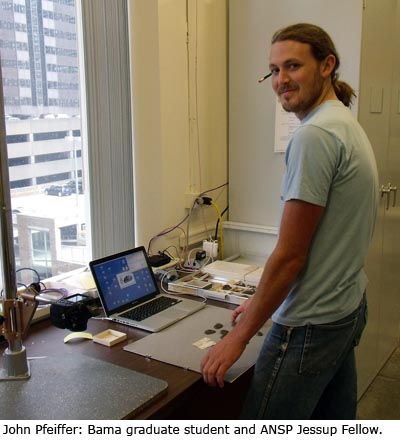 "During my two-week stay in Philadelphia I photographed all the Asian unionid specimens housed at the ANSP. In total I photographed over 800 lots and greatly familiarized myself with this regional fauna. These photographs, along with those from other museum trips, will provide the crucial specimen records and associated locality information necessary for my taxonomic revision of the Unionidae of the Irrawaddy River, Burma. These photographs provide the geographic and conchological data necessary to identify morphological discontinuities, delimit species, and map species ranges.
"The mollusk library at the ANSP was of tremendous use and pleasure, and the power and value of this world-class facility was of equal utility as the specimen collection. I copied and photographed over 100 pages of literature, much of which not available online or through inter-library loan. Including an original copy of Tableau Encyclopédique et Méthodique des Trois Règnes de la Nature, Bruguière, 1797, complete with hand drawn unionid centerfold.
"I also had the opportunity to prepare a collection of wet specimens for loan to bring back to the Graf lab. The soft parts of many Asian genera and species are poorly known, and this loan will allow me to thoroughly dissect, photograph (including SEM), and describe the soft anatomy of many genera from this regional fauna. I suspect these soft parts will provide some interesting results and evidence of natural relationships.
"I also gave a talk on Indotropical freshwater systematics, including our current understanding, the difficulties that limit our understanding, my intended contributions focused on the mussel assemblage of the Irrawaddy River, and my research on the polyphyletic Chinese freshwater mussel genus Lamprotula.
"Although the 4th of July festivities had just gotten underway as I was leaving Philadelphia (a mere two weeks prior to the 4th), the buzz around our nations historic landmarks and the patriotic preparations made me especially excited to celebrate the 235th anniversary of our nations birth, my grandma rose's 82nd birthday, and my favorite holiday.
"Special thanks to everyone at the ANSP, especially Gary Rosenberg, Paul Callomon, and Amanda Lawless."

Plate from Bruguiere.