Page last updated
23 December 2007
What's New with the MUSSELp?
The highlights of 2007.
21 October - 3 December 2007. — Hugh Jones, Graduate Student from Down Under, Studies Mussel Evolution at the Academy of Natural Sciences. Over the course of six weeks, Hugh Jones from the University of Sydney in Australia took advantage of the resources of the Academy of Natural Sciences to expand his freshwater mussels horizons. The ANSP has an excellent historical collection of unionoids from all over the world in addition to recent aquisitions from the southern continents and the delightfully illustrated MUSSEL Project Database. The MUSSELpdb provides a virtual museum of more than a dozen major freshwater mussel collections. Hugh's visit was funded by a Jessup Fellowship and a grant to DLG from NSF.
DLG worked with Hugh in Australia in 2006, and this trip continues that collaboration. Hugh is an expert on Australian freshwater mussels, which represent a primitive branch of the Etherioidea (Family Hyriidae). DLG has an interest in African members of the family Unionidae, perhaps the earliest branch of that family's tree. Understanding the origin and evolution of the Hyriidae and Unionidae lends important insights into the early evolution of the entire Order Unionoida, the freshwater mussels. Alcohol-preserved specimens of species like Prisodontopsis aviculaeformis (the December 2007 Mussel of the Month) from Lake Mweru provide a interesting opportunity for freshwater malacological research.
Click here to see the report Hugh wrote of his visit.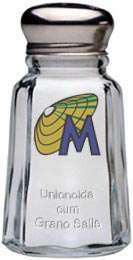 26 November 2007. — Global Checklist of Freshwater Mussel Species Available On-Line and In Print. The latest paper to come from the MUSSEL Project is an analysis of global freshwater mussel diversity, a project that we informally call Unionoida cum Grano Salis. The advanced-access version of the article was made available by the Journal of Molluscan Studies earlier this month.
Graf, D.L. & K.S. Cummings. 2007. Review of the systematics and global diversity of freshwater mussel species (Bivalvia: Unionoida). Journal of Molluscan Studies 73: 291-314.
That paper contains a global checklist of freshwater mussel genera and species, and each genus is classified according to the system we published last year.
Graf, D.L. & K.S. Cummings. 2006. Palaeoheterodont Diversity (Mollusca: Trigonioida + Unionoida): what we know and what we wish we knew about freshwater mussel evolution. Zoological Journal of the Linnean Society 148: 343-394.
Unionoida cum Grano Salis, on this web site, mirrors the results of that work, including the checklist. However, two new species have already been described since the article went to press. We will continue to keep the data on the MUSSEL Project Web Site up to date.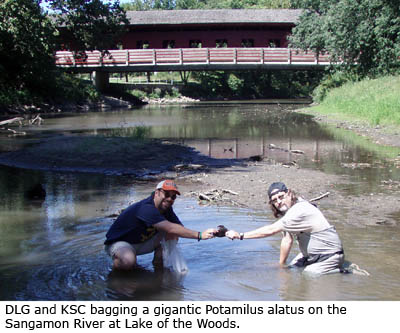 28-31 August 2007. — MUSSELp Organizing and Ditch-Hopping in the Great Corn Desert. DLG met up with KSC at the Illinois Natural History Survey in Champaign to get organized for the coming 5th year of MUSSELp collaboration and to do some collecting in the Sangamon Basin. Earlier in the month, we were approved for an extension on our NSF REVSYS grant, allowing us to continue our revisionary work on the freshwater mussels of the southern continents. We were able to draw up an outline for an upcoming project focusing on the Nearctic unionoidean assemblage and to plan out our course of action for the next twelve months.
While DLG was in town, we also took the opportunity to collect specimens to serve as outgroups in our molecular analyses. We were assisted by Jeremy Tiemann, and it was the first time that KSC and DLG had been in the field together in the Western Hemisphere. Good times... Good times...
In another bit of MUSSELp news, Katie Vazquez — malacology research and curatorial assistant at the Academy of Natural Sciences for the last 15 months — matriculated from her post to graduate school at Montclair State University in New Jersey. We wish her success!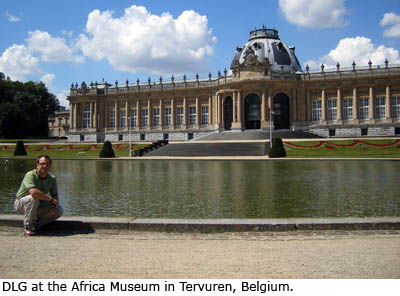 15-21 July 2007. — MUSSELp at the WCM, Antwerp, Belgium. The MUSSEL Project was represented at the triennial World Congress of Malacology in Antwerp by DLG. It was a busy and productive week among our fellow malacologists at the University of Antwerp. Hats off to Thierry Backeljau and his crew for putting together such a successful congress!
DLG presented a talk, "Palaeoheterdonta MMVII: A Cosmopolitan Assessment of Freshwater Mussel Diversity" during a special symposium organized by Philippe Bouchet of the MNHN in Paris. The symposium, "Inventorying the Mollusca Fauna of the World: Frontiers and Perspectives," brought together authorities on various molluscan taxa, geographical areas and habitats, and the objects were to discuss our collective progress toward a global estimate of molluscan diversity and to point out areas of future research.
One day in the middle of the congress was dedicated to field trips, and DLG took the opportunity to investigate the Africa Museum in Tervuren (in the suburbs of Brussels). It was an interesting visit and provided interesting recon for a future collections visit with KSC. The Africa Museum has the most extensive permanent to freshwater mollusks of any natural history museum we have seen!
On Saturday 21 July, DLG attended a workshop (organized by Mary Seddon) on how to contribute data to the IUCN Red List Project, especially for Africa.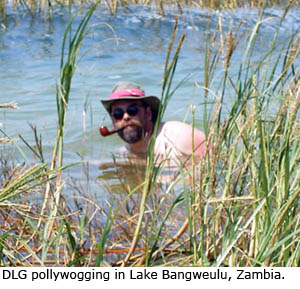 15 May - 2 June 2007. — 5000 km in Seach of Oulwili in Zambia. DLG, in collaboration with Alex Chilala of the Zambian Department of Fisheries, sampled several sites in the Northern and Luapula Provinces of Zambia for freshwater mussels, known locally as oulwili. It was a successful trip that covered a lot of ground and added numerous important specimens to the Academy of Natural Sciences Malacology Collection.
Whereas our sampling in Zambia in 2005 focused on the Zambezi/Luangwa Basin (with a single site in the Congo Drainage), this expedition was focused on the rivers and lakes of the Congo. We collected mussel specimens (live and dead) from the Chambeshi River, Lake Mweru, Lake Mweru Wantipa and Lake Bangweulu. We also investigated localities on the Luapula, Lukulu and Luwombwa rivers that will likely prove musselful when they are resampled when the water levels are lower. Further, we sampled two sites on Lake Kariba, although no live mussels were found at either locality. Click here for a detailed accounting of our sampling sites.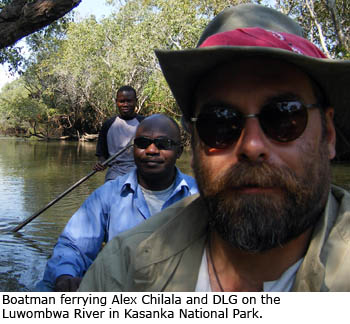 Over all, we collected at least 12 species of freshwater mussels in three families (Etheriidae, Iridinidae and Unionidae). Species collected live were preserved in formalin and tissue samples were retained for molecular work. Our species count may change as the specimens are more rigorously examined and catalogued. At least one of these species is a Mutela sp. new to science!
In addition, DLG used the down time between his flights in London to examine specimen records at the Natural History Museum in London.
Thanks are owed to:
Alex Chilala for lending his experience, energy and curiosity to this expedition.
C.T. Maguswi, Director of Fisheries, Zambian Ministry of Agriculture & Cooperatives for his encouragement of malacological research in Africa and administrative support.
The National Science Foundation for providing the funding for this sampling expedition.


Sunset over Lake Mweru at Nchelenge, Zambia.
As with any trip to an exotic locality like Zambia, there were numerous opportunities for non-malacological revelations as well. Click here to see some photos not directly related to malacology.
13-15 March 2007. — The MUSSELp Represents at the FMCS Symposium. The Freshwater Mollusk Conservation Society met in Little Rock, Arkansas for their 5th biennial symposium, "Directions in Freshwater Mollusk Conservation: Molecules to Ecosystems." It was an eventful meeting for the MUSSELp. KSC received a plaque for his past service as president of the society, and he was finally able to pass the torch of leadership for the society journal, Walkerana. It is believed that he holds the record for longest editorship of a biological journal without actually publishing anything.
DLG and KSC presented during both the poster and platform sessions, showcasing our collections work and field expeditions to Africa. Our poster, "Freshwater Mussels (Bivalvia: Unionoida) of the Angola Region," provided a large, illustrated synopsis of our recent article of similar title. "Preliminary Reevaluation of the Freshwater Mussels (Bivalvia: Unionoida) of the Congo Region, Africa" was given as one of the last two concurrent lectures of the entire symposium. Our presentations about Africa went over well, and we were pleased to see the Congo represented in the logo of the 2007 FMCS meeting!
This trip to Little Rock was significant for the MUSSELp Database as well. Returning home, DLG was stranded in Chicago for two extra days because of bad weather and its inevitable travel delays, and he used that time to make major improvements to the implimentation of our database structure. These changes will allow the MUSSELpdb to even better recognize its potential as a useful tool for keeping track of taxonomic data on freshwater mussels.