Page last updated
28 October 2008
MUSSELp Sampling Sites in Zambia, 2008
From 11-30 September, DLG, KSC, a crew of American students and researchers, and Alex Chilala of the Zambia Department of Fisheries sampled freshwater mussels in the Congo and Zambezi basins of Zambia. Mollusks (live and shells only) were found at 9 sites, with most sampling effort spent in the northern part of the country.
The map below depicts our sampling sites in Zambia during the MUSSELp expedition of 2008. Sites are number 1-9, and the star indicates the position of Lusaka. Most of the sampling sites had been visited on previous collecting trips in either 2005 or 2007 but under higher water conditions. The sampling crew at most sites consisted of DLG, KSC, Curt Elderkin, Anthony Geneva, Jaclyn Kahn, and Jeremy Tiemann.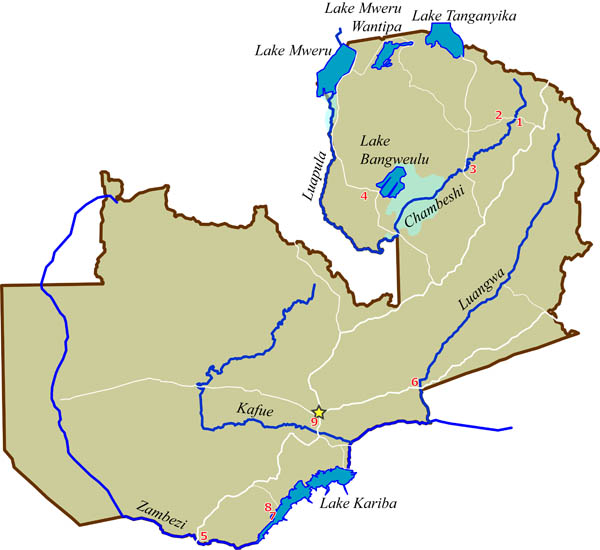 Details of our sampling sites are transcribed below from our notebooks. Geographical coordinates were determined using a hand-held GPS, and links from the geocodes map the sites on Google Maps.
MPZ-2008-01: Mbesuma Ranch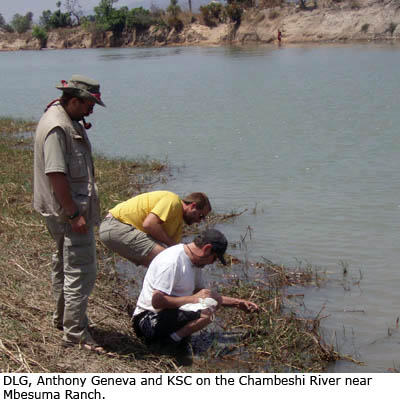 Chambeshi River, ca. 5 km W Mbesuma Ranch on Kasama-Mbesuma Ranch Road (D18) at the site of the pontoon, Zambia.
-10.010, 032.124
14 September 2008; DLG, KSC et al.!
[=MPZ-2007-04]
The water was much lower than May of last year. The locals collected live Etheria elliptica, Mutela sp., Coelatura luapulaensis, and Aspatharia pfeifferiana, with the help of the crew. Also dead Chambardia dautzenbergi.
The specimens were collected from the soft sediment along the western bank.


The crossing point of the Chambeshi River near Mbesuma Ranch, Zambia.
MPZ-2008-02: Kulungu Bridge
Kalungu River, bridge on Kasama-Mbesuma Ranch Road (D18), Zambia.
-10.020, 031.935
14 September 2008; DLG, KSC et al.!
[=MPZ-2007-05]
Pollywogging along the west bank near the bridge, with the help of a local kid. Live Aspatharia pfeifferiana and Coelatura luapulaensis.
MPZ-2008-03: Sawfa
Chambeshi River, Sawfa Pontoon, 6.3 km E Mpika-Kasama Road (M1), Zambia.
-10.852, 031.167
15 September 2008; DLG, KSC et al.!
[=MPZ-2007-03]
Boss! Sampling Etheria from hard substrate, and locals brought us lots of Aspatharia and Coelatura and 1 Mutela sp.

MPZ-2008-04: Samfya Beach
Lake Bangweulu, Samfya Beach Hotel, Samfya, Zambia.
-11.344, 029.562
17 September 2008; DLG, KSC et al.!
[=MPZ-2007-012]
Water level about the same as ever. Live Coelatura choziensis and Mutela hargeri. Nice beach.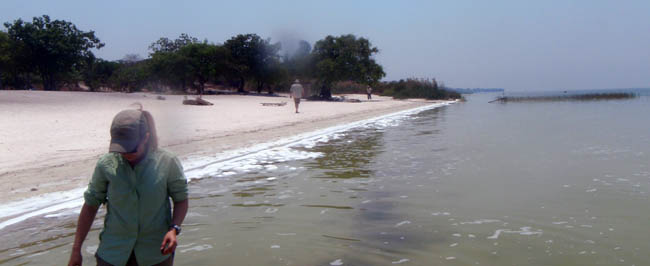 Sampling Samfya Beach on Lake Bangweulu, Zambia.
DLG, KSC and Jaclyn Kahn preserve specimens for anatomical research (left), while Jeremy Tiemann, Curt Elderkin, and Anthony Geneva biopse tissue samples for DNA analysis (right).
MPZ-2008-05: Victoria Falls
Zambezi River, directly above Victoria Falls, immediately below the exposed low-head dam, Zambia.
-17.924, 025.862
22 September 2008; DLG et al.!
[downstread of Site 9, 2005]
Bumbled across Coelatura while exploring the dry area above where Victoria Falls would be if it wasn't the dry season. The specimens were just sitting in the sand in a narrow creek-channel, probably washed into that position.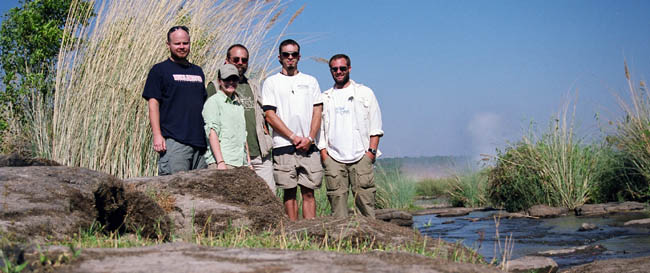 MUSSELp Crew above Victoria Falls (note the mist rising from the relative trickle that is flowing over).
MPZ-2008-06: Luangwa Bridge
Luangwa River, Luangwa Bridge on the Great East Road, Zambia.
-14.974, 030.216
25 September 2008; DLG et al.!
[= Site 2, 2005]
Found a little junkshell of Aspatharia and Coelatura, and the locals produced one live Aspatharia subreniformis.
MPZ-2008-07: Lake Kariba
Lake Kariba, "Old Harbor," near Kariba Bush Camp, Siansowa, Zambia.
-17.448, 027.397
27 September 2008; DLG et al.!
This is the spot that we were directed people to sample for ougili by the folks at the Bush Camp, but the people here said that mussels were hard to find. They were right. Just some junkshell Coelatura and Corbicula in the beach frass.
The guy that the Camp sent to find mussels the day before didn't find any.


The Siansowa Peninsula on Lake Kariba. Not a good musseling site when we were there, with a very soft, mud-gravel substrate.
MPZ-2008-08: Siamombo River
Siamombo River, on the Sinazongwe-Mamba Rd., Zambia.
-17.264, 027.361
27 September 2008; DLG et al.!
Shallow, sandy bottom. Stream right at bridge. Found junkshell of Coelatura mossambicensis, Aspatharia subreniformis, and a live Chambardia wahlbergi.

Anthony Geneva, with his local assistants in tow, in the Siamombo River.
MPZ-2008-09: Chilanga Fish Ponds
Chilanga Fisheries Department Fish Ponds, S Chilanga, Zambia.
-15.573, 028.262
28 September 2008; DLG et al.!
[=MPZ-2007-16]
The same set of fisheries ponds that we visited last year, except that the water levels were much lower. Sampled from the 3rd and 4th ponds with the help of some of the pond workers. Got nine Chambardia wahlbergi.


Anthony taking one (of many) for the team.