Page last updated
5 June 2019
2019 MUSSELp Publications & Presentations
Six Chapters: Unionidae Rafinesque, 1820 and the general Unionida, Margaritiferidae Henderson, 1929, Hyriidae Swainson, 1840, Etheriidae Deshayes, 1832, Mycetopodidae Gray, 1840, & Iridinidae Swainson, 1840
by Daniel L. Graf & Kevin S. Cummings
Published 2019, Chapters 38-43 in C. Lydeard & K.S. Cummings (eds.), Freshwater Mollusks of the World: A Distribution Atlas. Johns Hopkins University Press. pp. 202-227. Click here for the publisher's website.
"There are more species of freshwater mollusks—well over 5,000—than all the mammal species of the world. Freshwater mollusks are also arguably the most endangered fauna on the planet. Yet few references exist for researchers, shell enthusiasts, and general readers who are interested in learning more about these fascinating creatures. In Freshwater Mollusks of the World, Charles Lydeard and Kevin S. Cummings fill that void with contributions from dozens of renowned mollusk experts.
"Touching on 34 families of freshwater gastropods (snails) and 9 families of freshwater bivalves (mussels and clams), each chapter provides a synthesis of the latest research on the diversity and evolutionary relationships of the family."
Sponge and mollusk associations in a benthic filter-feeding assemblage in the middle and lower Xingu River, Brazil
by Volkmer-Ribeiro, Mansur, Pereira, Tiemann, Cummings &M.H. Sabaj
Published 2019, Proceedings of the Academy of Natural Sciences of Philadelphia 166(1):1-24. Click here for electronic access.
During a pilot survey, sponges and mollusks were sampled from the bottom of the middle Xingu River (rapids) and lower Xingu River (ria) via hand-picking in shallows and trawling and surface-supplied dives in deeper waters. The survey revealed a benthic community composed of eight sponge species in four genera and three families, and added six species to the Xingu Basin fauna. Sponges exhibited distinct variation in body shape corresponding to local environmental conditions such as water depth, current velocity and available substrates. Sponges inhabiting rocky bottoms in swift currents (rapids) typically formed crusts. Those in the deeper, calmer waters of the ria attained massive and elaborate forms while attached to infaunal bivalves. Oncosclera navicella and Drulia cristata exhibited crusts and massive forms as adaptations to rapids and ria, respectively. In the middle to lower Xingu, sponges encrusted the shells of eleven species of bivalves (seven infaunal, three epifaunal, and one infaunal/epifaunal) and one infaunal/epifaunal gastropod. Bivalves provide key substrates for supporting sponges above the sand, mud and detritus of the Xingu ria. Potential impacts of the Belo Monte Dam complex on the sponge fauna of the middle Xingu rapids are discussed.
 The Freshwater Mussels of México (Unionidae & Mycetopodidae)
by Kevin S. Cummings, Charles R. Randklev, Kentaro Inoue, Jeremy S. Tiemann, Nathan A. Johnson, John M. Pfeiffer, Daniel L. Graf, Tom Miller, Amy L. Burden & Edna Naranjo-Garcia
Presented at the Biennial Freshwater Mollusk Conservation Society Symposium, 14-18 April 2019, San Antonio, TX.
Abstract. Mesoamerica is a global hotspot of freshwater mussel (Unionida) diversity. However, the mussel fauna of Central America in general, and México specifically, is poorly known and is badly in need of revision. The last comprehensive treatments of the fauna were made by Fischer & Crosse (1870-1902) and von Martens (1890-1901). Frierson (1927) provided a checklist of species from México and placed many of the "species" in the genera of Crosse & Fischer without comment. The Mussel Project (MUSSELp, 2018) currently lists 75 species from México as valid. We examined 1393 total lots (including types) from 16 museum collections collected from the Río Grande drainage south to the Usumacinta basin that separates México and Guatemala. We also conducted fieldwork in the Río Pánuco in San Luis Potosí in December of 2017 and 2018 and the Río Conchos (Río Grande del Norte basin in Chihuahua) in May 2018. After examination of type specimens and preliminary DNA analysis from newly collected samples, we now recognize 49 species of freshwater mussels (42 Unionidae and 7 Mycetopodidae) from México and boundary waters as valid. Cryptic diversity and new species will certainly increase that number. The basins with the greatest species richness are the Río Grande del Norte (16), Papaloapan / Coatzacoalcos (16), Pánuco (15), and Usumacinta (14). Historically, members of the Unionidae in Central America have been classified with the Nearctic lineages, especially the Ambleminae. Mycetopodids are otherwise endemic to South America. With the exception of a few species, the Mesoamerican assemblage is distinct from that of North America (only 9 species are shared between them) and consists of a large number of endemic species, making it a transition zone between Nearctic and Neotropic faunas. We will present an overview on the history of research on freshwater mussels in México and discuss potential future research directions and opportunities.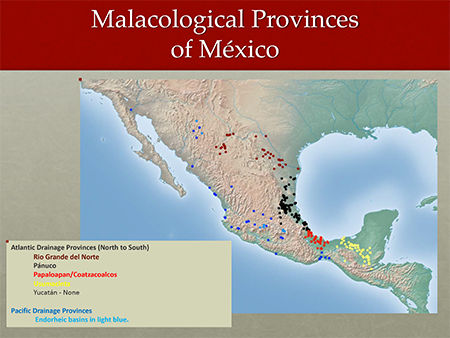 This slide shows distribution of collection records from Mexico, according to their biogeographical provinces.