Page last updated
Thu 07 Mar 2019
The Freshwater Mussels (Unionoida) of the World (and other less consequential bivalves)
FM(U)otW(aolcb) is the web version of the MUSSEL Project Database. Follow the links to browse the data or use the custom Google search field. Either way, you win!
For each valid genus, the valid species are listed, Recent taxa first. Click here for the generic synonymy.
Search the database pages:
---
Bivalvia | Veneroida | Dreissenidae
genus Mytilopsis Conrad, 1857: valid species
Mytilopsis adamsi Morrison, 1946 (brackish)
4 synonyms
Range: Brackish, Pacific Central America. Introduced in southeastern Asia. [Neotropical, Indotropical]
Mytilopsis africana (Van Beneden, 1835) (brackish)
8 synonyms
Range: Brackish, tropical eastern Atlantic, from Senegal to the Congo. [Afrotropical]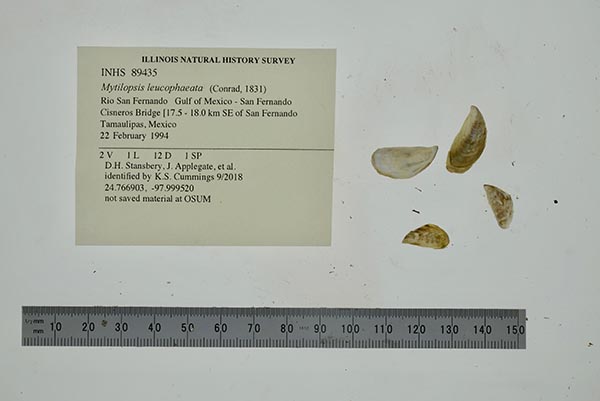 Mytilopsis leucophaeata (Conrad, 1831)
6 synonyms | 1 specimen
Range: Brackish and freshwater, from the Gulf of Mexico north to Chesapeake Bay. Introduced in Europe. [Nearctic, Palearctic]
Genbank sequences: 16S, 18S, 28S, COI, Cytb, H3.
Mytilopsis sallei (Récluz, 1849)
7 synonyms | 10 specimens
Range: From the Caribbean south to Venezuela and Guyana. [Nearctic, Neotropical]
Genbank sequences: 16S, 18S, 28S, 5.8S, COI, ITS1.
Mytilopsis trautwineana (Tryon, 1866)
2 synonyms
Range: Native to western Colombia and Ecuador. Introduced to the Caribbean. [Neotropical]
Mytilopsis modiolopsis (Andrusov, 1897) (Tertiary)
1 synonym
Range: Miocene, Ukraine. [Palearctic]
Mytilopsis spathulata (Partsch, 1835) (Tertiary)
1 synonym
Range: Miocene, Europe. [Palearctic]
Mytilopsis triangularis (Partsch, 1835) (Tertiary)
1 synonym
Range: Miocene, Europe. [Palearctic]
Page updated: 13:52:05 Thu 07 Mar 2019