Page last updated
Wed 15 May 2019
The Freshwater Mussels (Unionoida) of the World (and other less consequential bivalves)
FM(U)otW(aolcb) is the web version of the MUSSEL Project Database. Follow the links to browse the data or use the custom Google search field. Either way, you win!
For each valid genus, the valid species are listed, Recent taxa first. Click here for the generic synonymy.
Search the database pages:
---
Bivalvia | Unionoida | Etherioidea | Mycetopodidae | Monocondylaeinae
genus Fossula Lea, 1870: valid species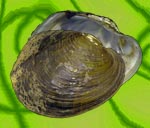 Fossula fossiculifera (d'Orbigny, 1835)
8 synonyms | 32 specimens
Range: Paraná and Uruguay rivers from Argentina to southern Brazil; Rio Paraguaçu, State of Bahia, Brazil, South America. [South America]
Other web site: ITIS.
Page updated: 16:04:27 Wed 15 May 2019