Page last updated
Wed 06 Nov 2019
The Freshwater Mussels (Unionoida) of the World (and other less consequential bivalves)
FM(U)otW(aolcb) is the web version of the MUSSEL Project Database. Follow the links to browse the data or use the custom Google search field. Either way, you win!
This page reports the specimens in the MUSSELpdb and provides a map if geocodes are known.
Search the database pages:
---
Bivalvia | Veneroida | Sphaeriidae | Sphaeriinae | Sphaerium
species Sphaerium corneum (Linnaeus, 1758): specimens
24 nominal species as synonyms.
Range: Native to northern Eurasia from Europe to Kamchatka. Introduced to the Laurentian Great Lakes.
Map of Georeferenced Specimens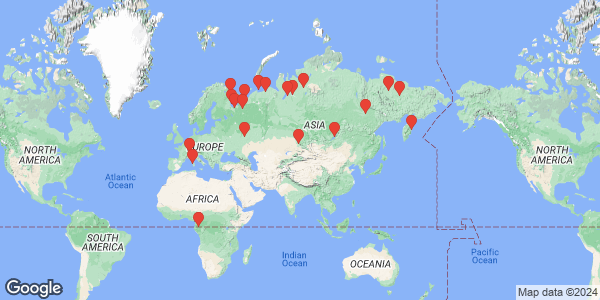 ---
Denmark
INHS_58117 Denmark
---
England
INHS_58190 England
INHS_58191 England
---
Portugal
INHS_59569 Coimbra, Portugal
---
Switzerland
INHS_59885 Geneva, Geneva, Switzerland
INHS_59886 Geneva, Geneva, Switzerland
INHS_59839 Switzerland
Page updated: 11:01:53 Wed 06 Nov 2019