Page last updated
Mon 04 May 2020
The Freshwater Mussels (Unionoida) of the World (and other less consequential bivalves)
FM(U)otW(aolcb) is the web version of the MUSSEL Project Database. Follow the links to browse the data or use the custom Google search field. Either way, you win!
This page documents data for Issel (1874), such as genera and species attributed to that publication (including known misspellings, misidentifications, and other unavailable names) as well as taxonomic opinions, if available. Taxonomic opinions refer to uses of genera and species as valid and invalid in that work.
Search the database pages:
---
Publication information
Issel, A. 1874. Molluschi Borneensi: Illustrazione Delle Specie Terrestri e d'Acqua Dolce Raccolte Nell'Isola di Borneo Dai Signori G. Doria e O. Beccari. Annali del Museo Civico di Storia Naturale de Genova 6: 1-127.
Attributed Species Names
Unio borneensis Issel, 1874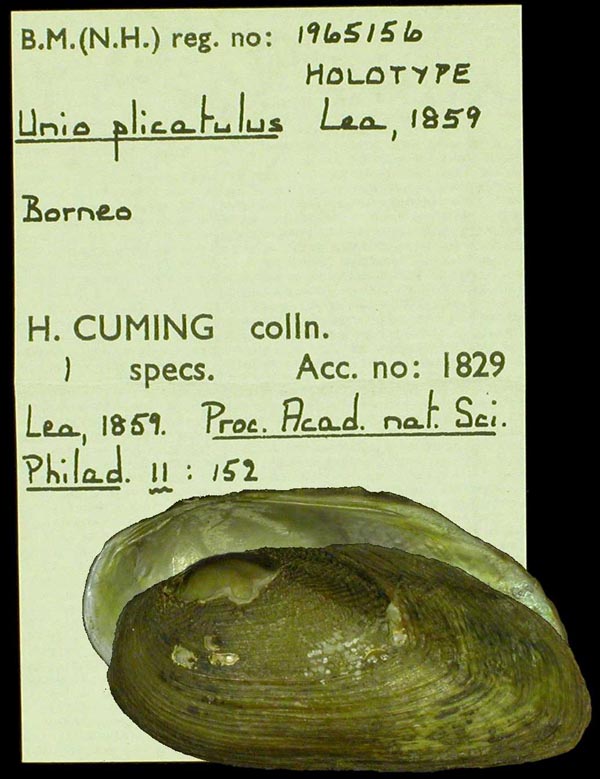 Issel, 1874, Ann. Mus. Storia Nat. Genova 6: 113.
(new name for Unio plicatulus Lea, 1859)
Type(s): HOLOTYPE BMNH_1965156, locality data from Issel "Nord-Est di Borneo; nelle vicinanze della costa presso Mampawa; nel lago Donau Siriang (v. Martens).".
Taxonomic Opinions
Page updated: 12:37:54 Mon 04 May 2020