Page last updated
Wed 26 Feb 2020
The Freshwater Mussels (Unionoida) of the World (and other less consequential bivalves)
FM(U)otW(aolcb) is the web version of the MUSSEL Project Database. Follow the links to browse the data or use the custom Google search field. Either way, you win!
This page lists the nominal species (available and otherwise) currently circumscribed under the valid name.
Search the database pages:
---
Bivalvia | Unionoida | Unionoidea | Unionidae | Gonideinae | Gonideini | Leguminaia
species Leguminaia saulcyi (Bourguignat, 1852): synonymy
26 specimens available.
Unio saulcyi Bourguignat, 1852
Bourguignat, 1852, Test. Nov. Saulcy: 27.
Bourguignat, 1853, Catalogue Raissoné des Mollusques Terrestres et Fluviatiles Recueillis par M.F. Saulcy 1853: 74, pl. 3, figs. 1-3.
Bourguignat, 1883, Aperçu Unionid. Pénins. Ital.: 64.

Unio saulcyi — Bourguignat (1852), Bourguignat (1853)
Pseudodon saulcyi — Conrad (1865)
Margaron (Monocondylœa) saulcyi — Lea (1870)
Leguminaia (s.s.) sauleyi — Bourguignat (1876)
Leguminaia saulcyi — Bourguignat (1880), Bourguignat (1883), Servain (1890), Westerlund (1890), Haas (1940), Haas (1969), Schütt (1983), Bogan (1993), Falkner (1994), Graf (2007), Graf & Cummings (2007), Bogan (2010), Çek & ŞerefliŞan (2010), Graf & Cummings (2011), IUCN (2014)
Leguminaia (s.s.) saulcyi — Simpson (1900), Germain (1911), Simpson (1914)
Unio michonii Bourguignat, 1852
Bourguignat, 1852, Test. Nov. Saulcy: 27.
Bourguignat, 1853, Catalogue Raissoné des Mollusques Terrestres et Fluviatiles Recueillis par M.F. Saulcy 1853: 74, pl. 3, figs. 10-12.
Bourguignat, 1883, Aperçu Unionid. Pénins. Ital.: 64.

Unio michonii — Bourguignat (1852), Bourguignat (1853)
Pseudodon mitchonii — Conrad (1865)
Margaron (Monocondylœa) saulcyi — Lea (1870)
Leguminaia (s.s.) michoni — Bourguignat (1876)
Leguminaia michoni — Bourguignat (1880), Servain (1890)
Leguminaia michonii — Bourguignat (1883), Westerlund (1890)
Leguminaia (s.s.) michonii — Simpson (1900), Germain (1911), Simpson (1914)
Leguminaia saulcyi — Haas (1940), Haas (1969), Schütt (1983)
Unio tripolitanus Bourguignat, 1852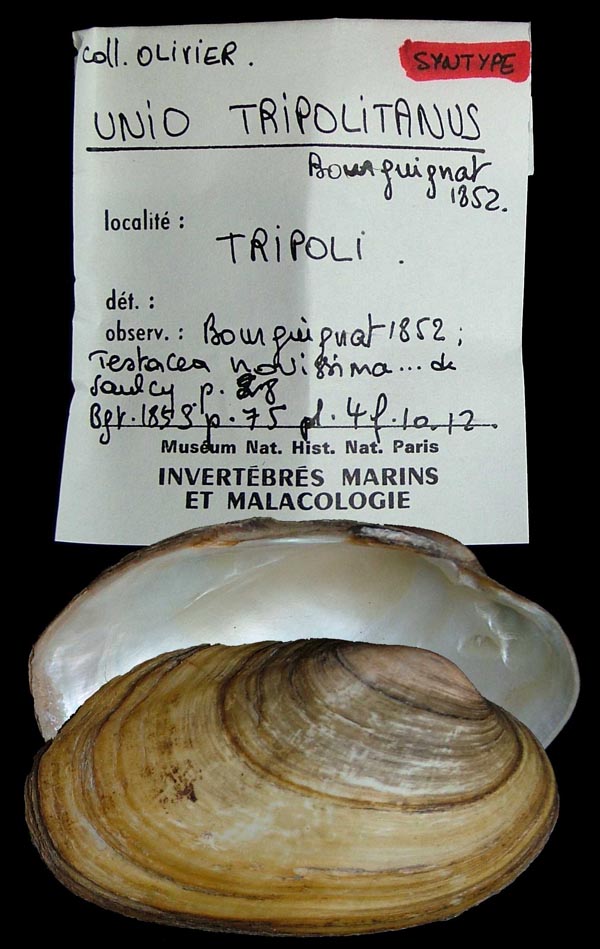 Bourguignat, 1852, Test. Nov. Saulcy: 28.
Bourguignat, 1853, Catalogue Raissoné des Mollusques Terrestres et Fluviatiles Recueillis par M.F. Saulcy 1853: 75, pl. 4, figs. 10-12.
Bourguignat, 1883, Aperçu Unionid. Pénins. Ital.: 65.
Type(s): SYNTYPE MNHN_MP_0161, Tripoli.

Unio tripolitanus — Bourguignat (1852), Bourguignat (1853)
Pseudodon tripolitana — Conrad (1865)
Margaron (Monocondylœa) saulcyi — Lea (1870)
Leguminaia (s.s.) tripolitana — Bourguignat (1876), Germain (1911), Simpson (1914)
Leguminaia tripolitana — Bourguignat (1880), Westerlund (1890), Servain (1890), Pallary (1939)
Leguminaia tripolitanus — Bourguignat (1883)
Leguminaia (s.s.) tripolitanus — Simpson (1900)
Leguminaia saulcyi — Haas (1940), Haas (1969), Schütt (1983), Graf & Cummings (2011)
Pseudodon mitchonii Conrad, 1865
'Bourguignat' Conrad, 1865, Amer. J. Conch. 1: 233.
(error for Unio michonii Bourguignat, 1852)

Pseudodon mitchonii — Conrad (1865)
Unio mechonii Lea, 1870
'Bourg.' Lea, 1870, Synopsis Fam. Naiades: 72.
(error for Unio michonii Bourguignat, 1852)

Unio mechonii — Lea (1870)
Leguminaia (s.s.) sauley Bourguignat, 1876
Bourguignat, 1876, Bull. Soc. Sci. Phys. Nat. Toulouse 3: 98.
(error for Unio saulcyi Bourguignat, 1852)

Leguminaia (s.s.) sauley — Bourguignat (1876)
Pseudodon chantrei Locard, 1883
Locard, 1883, Arch. Mus. Hist. Nat. Lyon 3: 254, pl. 19 bis, figs. 4-7.
(homonym of Leguminaia chantrei Locard, 1883; renamed Leguminaia (sec. Leguminaia) locardi Simpson, 1900)

Pseudodon chantrei — Locard (1883), Servain (1890), Westerlund (1890)
Leguminaia (s.s.) locardi — Simpson (1900)
Leguminaia (Pseudoleguminaia) chantrei — Germain (1911), Haas (1969)
Leguminaia (sec. Pseudoleguminaia) locardi — Simpson (1914), Thiele (1934)
Leguminaia saulcyi — Haas (1940), Haas (1969), Schütt (1983), Graf (2007)
Pseudodon chantrei Crosse, 1883
Crosse, 1883, J. de Conch. 31: 187.
(reference to Pseudodon chantrei Locard, 1883)

Pseudodon chantrei — Crosse (1883)
Anodonta chantrei — Simpson (1900), Simpson (1914)
Leguminaia (sec. Leguminaia) locardi Simpson, 1900
Simpson, 1900, Proc. U.S. Nat. Mus. 22: 653.
Simpson, 1914, Descr. Cat. Naiades: 449.
(new name for Pseudodon chantrei Locard, 1883)

Leguminaia (sec. Leguminaia) locardi — Simpson (1900)
Leguminaia (s.s.) locardi — Simpson (1900)
Leguminaia (sec. Pseudoleguminaia) locardi — Simpson (1914), Thiele (1934)
Leguminaia saulcyi — Haas (1940), Haas (1969), Schütt (1983)
Leguminaia tripolitana var. kebirensis Pallary, 1939
Pallary, 1939, Mém. Inst. Égypte 39: 115.
(intro'd as intra-sp. of Unio tripolitanus Bourguignat, 1852)

Leguminaia tripolitana var. kebirensis — Pallary (1939)
Page updated: 09:03:35 Wed 26 Feb 2020