Page last updated
Wed 11 Sep 2019
The Freshwater Mussels (Unionoida) of the World (and other less consequential bivalves)
FM(U)otW(aolcb) is the web version of the MUSSEL Project Database. Follow the links to browse the data or use the custom Google search field. Either way, you win!
This page lists the nominal species (available and otherwise) currently circumscribed under the valid name.
Search the database pages:
---
Bivalvia | Unionoida | Unionoidea | Unionidae | Parreysiinae | Coelaturini | Coelatura
species Coelatura kunenensis (Mousson, 1887): synonymy
54 specimens available.
Unio kunenensis Mousson, 1887

Mousson, 1887, J. de Conch. 35: 300, pl. 12, fig. 10.
Type(s): SYNTYPES MHNZ_XXX, Cunene River, border between Angola and Namibia.
Unio zambesiensis Preston, 1905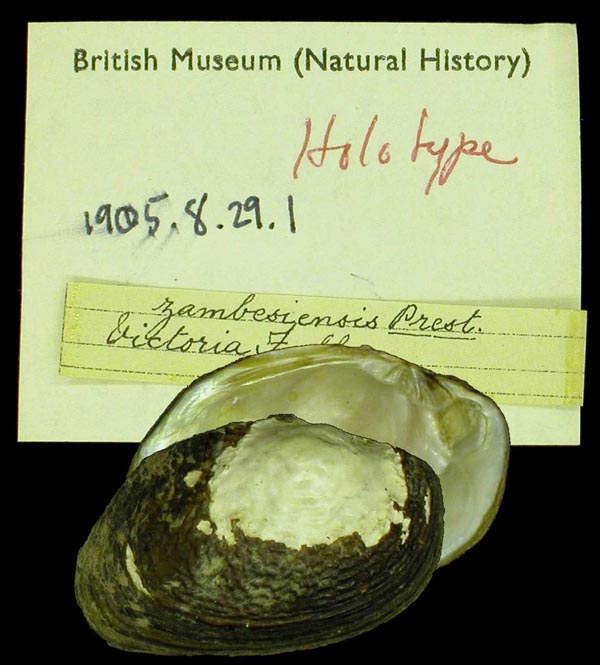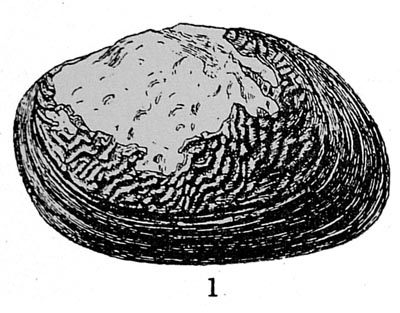 Preston, 1905, Proc. Malac. Soc. London 6: 301, fig. 1.
Type(s): HOLOTYPE (MONOTYPY) BMNH_1905-8-29-1, just above Victoria Falls, Zambesi River.
Nodularia (Caelatura) ellenbergeri Germain, 1920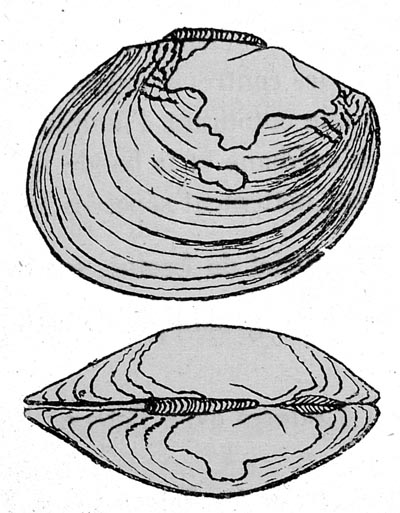 Germain, 1920, Bull. Mus. Hist. Nat. 26: 232, figs. 36-37.
Type(s): HOLOTYPE MNHN_MP_0059, Haut Zambese, Lealui District.
Indonaia victoriae Connolly, 1925
'Preston' Connolly, 1925, Rec. Albany Mus. 3: [5].
(error for Unio zambesiensis Preston, 1905)
Nodularia rohani Germain, 1925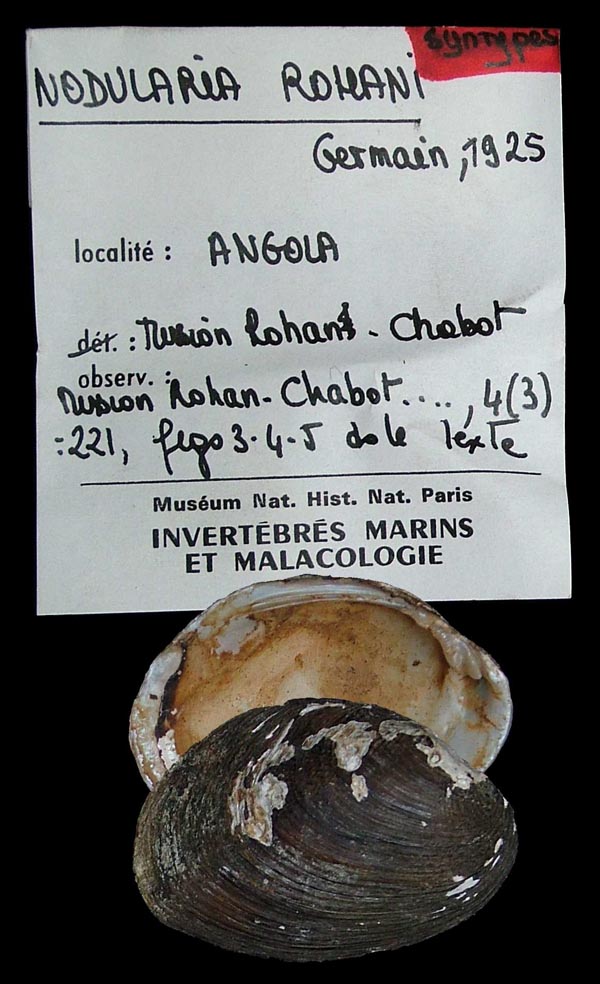 Germain, 1925, Miss. Rohan-Chabot 4(3): 221, text figs. 3-5.
Type(s): SYNTYPES MNHN_MP_0101_01, Luaukondo [Luankundu River], Angloa.
Nodularia (Caelatura) ellenbergi Daget, 1998
'Germain' Daget, 1998, Cat. Bivalves Africains: 59.
(error for Nodularia (Caelatura) ellenbergeri Germain, 1920)
Page updated: 11:13:28 Wed 11 Sep 2019