Page last updated
Thu 04 Apr 2019
The Freshwater Mussels (Unionoida) of the World (and other less consequential bivalves)
FM(U)otW(aolcb) is the web version of the MUSSEL Project Database. Follow the links to browse the data or use the custom Google search field. Either way, you win!
This page reports the specimens in the MUSSELpdb and provides a map if geocodes are known.
Search the database pages:
---
Bivalvia | Unionoida | Unionoidea | Margaritiferidae | Gibbosulinae | Gibbosula
species Gibbosula laosensis (Lea, 1863): specimens
5 nominal species as synonyms.
Range: Eastern Myanmar, Thailand and Laos, southeastern Asia.
Map of Georeferenced Specimens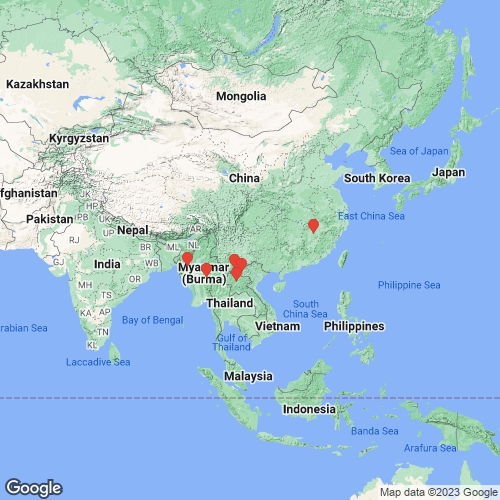 ---

Burma


SMF_168080
Birma


BMNH_1965218
Fort Stedman, Shan States


FMNH_21454
Burma

bmnh_1965219 Fort Stedman, Shan States

---

Cambodia


MNHN_MP_4368
Cambodge


BMNH_1965221
Camboja, Lao Mountains


USNM_86160
Laos Mts., Cambodia


FMNH_21453
Cambodja


ANSP_125891
streams on Laos Mountains, Siam


MCZ_53982
streams in Laos Mts.

---

China


MNHN_MP_4370
Kiangsi, Central Fleuve, Chine

---

Laos


UA_20997
Nam Ou, Haat Veune Rapids, downstream of Gnot Ou, Phongsali Province, Laos

---

Thailand


SMF_220825
Valley of the Pai River; Pr. Mae Hongson

---

Vietnam


SMF_11875
Dien Bien Phu, Tonkin


MCZ_102062
Dien Bien Phu, Tonkin, French Indo-China

---

unknown


MNHN_MP_4371
[no locality available - Asia]


FMNH_21455
[no locality available - Asia]


ANSP_41288
[no locality available - Asia]
Page updated: 11:12:09 Thu 04 Apr 2019