Page last updated
Wed 01 Jul 2020
The Freshwater Mussels (Unionoida) of the World (and other less consequential bivalves)
FM(U)otW(aolcb) is the web version of the MUSSEL Project Database. Follow the links to browse the data or use the custom Google search field. Either way, you win!
This page reports the specimens in the MUSSELpdb and provides a map if geocodes are known. The taxonomic history reports the record of different names and combinations that have been applied to this species (and its synonyms) since 2007.
Search the database pages:
---
Bivalvia | Unionoida | Unionoidea | Unionidae | Unioninae | Unionini | Acuticosta
species Acuticosta chinensis (Lea, 1868): specimens
5 nominal species as synonyms.
Taxonomic History

Acuticosta chinensis — Zhou et al. (2007), Graf & Cummings (2007), Bogan (2010), IUCN (2011), Ouyang et al. (2011), Xiong et al. (2012), Pfeiffer & Graf (2013), He & Zhuang (2013), Liu et al. (2017), Wang et al. (2018), Aunins et al. (2018), Zieritz et al. (2018), Wu et al. (2018), Huang et al. (2019), Wu et al. (2019), Lopes-Lima et al. (2020), Liu et al. (2020)
Range: Yangtze River, China.
Map of Georeferenced Specimens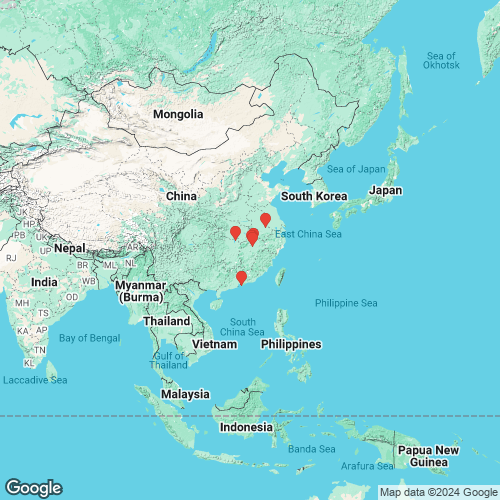 ---

China


MCZ_175567
Hong Kong, China


MNHN_MP_2696
Lacs Poyan, Chine


USNM_472408
Kien-Te hien, China


MNHN_MP_2698
Lacs Poyan, Chine


MNHN_MP_2699
Lac Poyan, Chine


MNHN_MP_2700
Chine


MNHN_MP_2702
Lacs Poyan, Chine


UMMZ_110496
canal at Wau, China


UMMZ_110497
Yochow, China


UMMZ_110498
China


USNM_333826
Kien-nin-fu, China


INHS_24795
Gan River, Nanchang, Jiangxi, China


ANSP_226978
Yochow, Hunan, China


UMMZ_51785
China
Page updated: 16:13:51 Wed 01 Jul 2020