Page last updated
Sun 01 Oct 2023
The Freshwater Mussels (Unionoida) of the World (and other less consequential bivalves)
FM(U)otW(aolcb) is the web version of the MUSSEL Project Database. Follow the links to browse the data or use the custom Google search field. Either way, you win!
This page reports the specimens in the MUSSELpdb and provides a map if geocodes are known. The taxonomic history reports the record of different names and combinations that have been applied to this species (and its synonyms) since 2007.
Search the database pages:
---
Bivalvia | Unionoida | Hyrioidea | Hyriidae | Velesunioninae | Alathyria
species Alathyria condola Iredale, 1943: specimens
1 nominal species
Range: Endemic to the Murray-Darling Basin, New South Wales, Australia.
Map of Georeferenced Specimens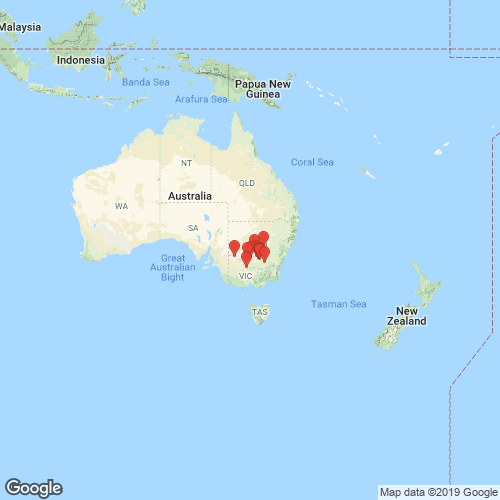 ---

Australia


ZMB_46008
Queensland


MCZ_191963
Lachlan River, at Condobolin, New South Wales, Australia


MCZ_191966
Murrumbridge River, at Narrandera, New South Wales, Australia


AMS_125896
Murray River at Red Cliffs, Victoria, Australia [-34.3, 142.183 ± 10 km]


USNM_623348
Yanko Creek, Narrandera, Hay, New South Wales, Australia


AMS_61762
Murrumbidgee River at Narrandera, New South Wales, Australia [-34.758, 146.546 ± 10 km]


USNM_623350
Murrumbidgee River, Keringal Station, Hay, New South Wales, Australia


AMS_61756
Lachlan River at Condobolin, New South Wales, Australia [-33.083, 147.15 ± 10 km]


AMS_126398
Hay, New South Wales, Australia [-34.5, 144.85 ± 10 km]


AMS_170218
Lachlan River at Hillston, New South Wales, Australia [-33.476, 145.53 ± 10 km]


AMS_61761
Murrumbidgee River, Wagga Wagga, New South Wales, Australia [-35.117, 147.367 ± 10 km]


AMS_358679
Condobolin, Lachlan River, New South Wales, Australia [-33.083, 147.15 ± 10 km]


AMS_331371
Murrumbidgee R, at Griffith, irrigation area, New South Wales, Australia [-34.283, 146.033 ± 100 km]


AMS_173166
Wagga Wagga, New South Wales, Australia [-35.117, 147.367 ± 10 km]


AMS_126337
Murrumbidgee River at Narrandera, New South Wales, Australia [-34.758, 146.546 ± 10 km]


AMS_61754
Murrumbidgee River, Yanco, near Yanco Agricultural High School, New South Wales, Australia [-34.642, 146.379 ± 1 km]


AMS_61763
Murrumbidgee River at Narrandera, New South Wales, Australia [-34.758, 146.546 ± 10 km]


AMS_173150
Condobolin, Lachlan River, New South Wales, Australia [-33.083, 147.15 ± 10 km]


AMS_61755
Trib of Gordon R, N of Shag Point on W side of river, nr river mouth (On leaves & wood), Tasmania, Australia [-42.523, 145.668 ± 1 km]


AMS_61752
Lachlan River at Condobolin, New South Wales, Australia [-33.083, 147.15 ± 10 km]


AMS_61901
Box Creek, Cohuna, Victoria, Australia; 35°49'S, 144°13'E

AMS_433737 40km W of Hay, Murrumbidgee River (In river channel), New South Wales, Australia [-34.544, 144.458 ± 1 km]

AMS_126380 Condobolin, Lachlan River, New South Wales, Australia [-33.083, 147.15 ± 10 km]

AMS_331425 Narrandera, Murrumbidgee River, New South Wales, Australia [-34.751, 146.546 ± 10 km]

AMS_126379 Yanco, New South Wales, Australia [-34.608, 146.4 ± 10 km]
Page updated: 11:27:36 Sun 01 Oct 2023