Central America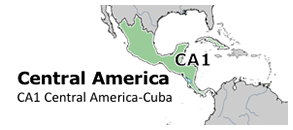 Neotropica includes all of South America, north through Central America to the Mexican Plateau. The region is inhabited by 96 species (23 genera) in two families: Unionidae and Mycetopodidae.
The sole subregion, Central America-Cuba (CA1; 23 gen, 96 spp.) includes Mexico south of the Rio Grande to the Isthmus of Panama, as well as the Caribbean island of Cuba. The fauna consists largely unioinid genera, and presumably those various lineages had their origins in North America, whereas the mycetopodids have extended north into the region from South America.
Endemic species are marked with an asterisk (*).
Central America-Caribbean Subregion (CA1)