Page last updated
Wed 27 Sep 2023
The Freshwater Mussels (Unionoida) of the World (and other less consequential bivalves)
FM(U)otW(aolcb) is the web version of the MUSSEL Project Database. Follow the links to browse the data or use the custom Google search field. Either way, you win!
This page reports the specimens in the MUSSELpdb and provides a map if geocodes are known. The taxonomic history reports the record of different names and combinations that have been applied to this species (and its synonyms) since 2007.
Search the database pages:
---
Unionoida | Unionoidea | Unionidae | Ambleminae | Quadrulini | Uniomerus
species Uniomerus carolinianus (Bosc, 1801): specimens
17 nominal species as synonyms
Taxonomic History (since 2007)

Uniomerus caroliniana — Graf & Cummings (2007), Cummings & Graf (2010), IUCN (2012)
Uniomerus carolinianus — Bogan (2010), Williams et al. (2011), ITIS (2012), Williams et al. (2014), ..., Lopes-Lima et al. (2019), Graf & Cummings (2021), FMCS (2021), Neemuchwala et al. (2023)
Uniomerus carolinensis — Campbell & Lydeard (2012)
Uniomerus obesus — ITIS (2012)
Range: Southern Atlantic Slope, peninsular Florida, and the Ochlockonee Basin, USA.
Map of Georeferenced Specimens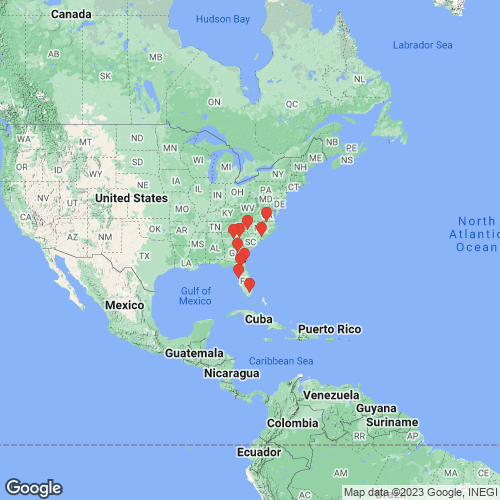 ---

USA


USNM_85380
Catawba R., N.C.


USNM_85532
Little Ocmulgee R., Georgia


USNM_85383
Oconee R., near Athens, Georgia


USNM_85713
Everglades, Florida


USNM_85715
St. Johns R., Fla.


ANSP_41411
Tampa, Fla.


MCZ_169278
Everglades of Florida


USNM_85326
Abbeville District, SC


USNM_85366
Little Ogeechee, Georgia


USNM_85373
Bissels Pond, Charlotte, N.C.


USNM_85374
Sink of Noonan's Lake, Fla.


USNM_85376
Roanoke R., Weldon, N.C.
Genbank Vouchers
wuspCOX58 (COI).
wuspCOX02 (COI).
wuspCOX09 (COI).
wuspCOX03 (COI).
wuspCOX56 (COI).
wuspCOX01 (COI).
wuspCOX55 (COI).
wuspCOX60 (COI).
wuspCOX04 (COI).
wuspCOX06 (COI).
wuspCOX05 (COI).
wuspCOX57 (COI).
UF_438215 (SRA).
Page updated: 11:07:49 Wed 27 Sep 2023