The Freshwater Mussels (Unionoida) of the World (and other less consequential bivalves)
FM(U)otW(aolcb) is the web version of the MUSSEL Project Database. Follow the links to browse the data or use the custom Google search field. Either way, you win!
This page reports the specimens in the MUSSELpdb and provides a map if geocodes are known. The taxonomic history reports the record of different names and combinations that have been applied to this species (and its synonyms) since 2007.
Search the database pages:
---
Unionoida | Unionoidea | Unionidae | Unioninae | Unionini | Inversiunio
species Inversiunio jokohamensis (Ihering, 1893): specimens
6 nominal species as synonyms
Range: Hokkaido and eastern Honshu, Japan.
Map of Georeferenced Specimens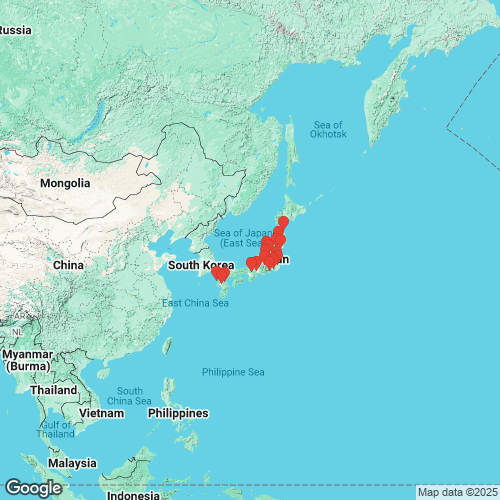 ---

Japan


USNM_346054
Yamashiro, Japan


FMNH_68092
Kyoto, Japan


FMNH_115951
Nakano, near Tokyo, Japan


USNM_346083
Iki Id., Japan


UMMZ_50247
Chikugo R., & connected water near Kuname, Japan


USNM_346084
Yamashiro, Japan


USNM_346085
Yanagawa, Chikugo, Japan


USNM_346086
Nojiriko, Japan


UMMZ_109698
Japan


UMMZ_109699
Japan


UMMZ_109700
Omiya Hashiman, Nakano, near Tokio, Japan


UMMZ_109701
Shimano, Japan


USNM_172675
Japan


SMF_3641
Hacone-See, Japan


SMF_3648
Umgeb. v. Yokohama


SMF_3649
Umgeb. v. Yokohama, Japan


USNM_249612
Kasumingawa, Japan


USNM_249613
Japan


USNM_249614
Kasumingawa, Hidachi, Japan


MNHN_MP_2807
Hakone-See Japan


ANSP_216581
Omiya Hachiman, Nakano, near Tokyo, Japan

---

unknown


USNM_125771
[no locality available - Asia]
Genbank Vouchers
Publ_4138_Ij25-09 (COI, 16S, 28S).
Publ_4138_Ij21-28f (COI, 16S, 28S).
Publ_4138_NiiYoko6 (COI, 16S).
Publ_4138_NiiYoko4 (COI, 16S).
Publ_4138_NiiYoko3 (COI, 16S).
Publ_4138_NiiYoko1 (COI, 16S).