Page last updated
Mon 13 Mar 2023
The Freshwater Mussels (Unionoida) of the World (and other less consequential bivalves)
FM(U)otW(aolcb) is the web version of the MUSSEL Project Database. Follow the links to browse the data or use the custom Google search field. Either way, you win!
This page reports the specimens in the MUSSELpdb and provides a map if geocodes are known. The taxonomic history reports the record of different names and combinations that have been applied to this species (and its synonyms) since 2007.
Search the database pages:
---
Unionoidea | Unionidae | Unioninae | Anodontini | Cristariina | Sinanodonta
species Sinanodonta jourdyi (Morlet, 1886): specimens
3 nominal species as synonyms
Taxonomic History (since 2007)

Sinanodonta jourdyi — Bogan (2010), Kondakov et al. (2018), Do et al. (2018), Zieritz et al. (2018), Lopes-Lima et al. (2020), Graf & Cummings (2021), Bolotov et al. (2021), Jeratthitikul et al. (2022)
Pilsbryoconcha suilla — Bogan (2010), IUCN (2012)
Sinanodonta woodiana — He & Zhuang (2013), Vinarski & Kantor (2016)
Sinanodonta hunganhi — Thach (2016), Do et al. (2018)
Range: Vietnam and southern China.
Map of Georeferenced Specimens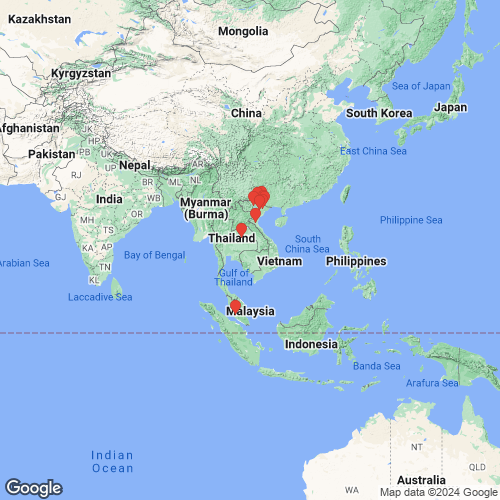 ---

Malaysia


SMF_319636
Kuala Lumpur, Malaya

---

Thailand


MNHN_MP_4007
Gaen Nam Ton, Kon Kaen, Thailand

---

Vietnam


MNHN_MP_4158
Yen-Bai (Haut Tonkin), marshes sur la bords du Fleuve Rouge


MNHN_MP_PARIS11
Song Bang-Giang a Cao Bang


MNHN_MP_4178
Yen-Bai, Tonkin


MNHN_MP_4207
Lacs Ba Be, Ht. Tonkin


MNHN_MP_4181
Tonkin


MNHN_MP_4188
Lacs Ba Be


MNHN_MP_4190
Tonkin


MNHN_MP_4199
Tonkin


MNHN_MP_4202
Bas Luc Nam


MNHN_MP_4228
Hanoi, Tonkin


MNHN_MP_4238
Song Bang Giang a Cao Bang


MNHN_MP_0152
Dang-son, Tonkin


MNHN_MP_4239
Tonkin


MNHN_MP_4240
Grand Lac, Hanoi, Tonkin


MNHN_MP_4246
...Tonkin


UMMZ_101561
Lacs Ba Be, Tonkin


MNHN_MP_4308
Tonkin


BMNH_93-2-4-1395
near Lang-son Chu, Tonkin
Page updated: 09:34:43 Mon 13 Mar 2023