Page last updated
Sun 01 Oct 2023
The Freshwater Mussels (Unionoida) of the World (and other less consequential bivalves)
FM(U)otW(aolcb) is the web version of the MUSSEL Project Database. Follow the links to browse the data or use the custom Google search field. Either way, you win!
This page reports the specimens in the MUSSELpdb and provides a map if geocodes are known. The taxonomic history reports the record of different names and combinations that have been applied to this species (and its synonyms) since 2007.
Search the database pages:
---
Bivalvia | Unionoida | Etherioidea | Mycetopodidae | Mycetopodinae | Mycetopodella
species Mycetopodella falcata (Higgins, 1868): specimens
2 nominal species as synonyms
Range: Upper Amazon and Orinoco (MUSSELpdb) basins of Peru, Ecuador, Colombia, South America.
Map of Georeferenced Specimens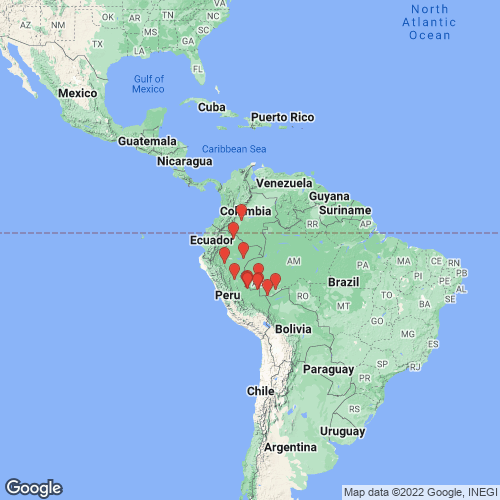 ---

Brazil


ZMB_MP_0129
Amazon


USNM_86788
Amazon

PUCRS_MCP_8541 Brazil: Acre: Brasiléia: (Amazon - Purus - Acre): rio Acre: Cachoeira do Bandeira: -10.93984 -69.25541

PUCRS_MCP_6122 Brazil: Acre: Rio Branco: (Amazon - Purus - Acre): rio Acre: -9.97829 -67.81944

INPA_1606 Brazil: Acre: Tarauaca

---

Colombia


SMF_166107
Alto Rio Guayabero, Colombia


DMNH_75140
Upper Amazon River, Colombia


FMNH_114133
Alto Rio Guayabero, Colombia


FMNH_114099
Alto Rio Guayabero, Colombia

---

Ecuador

MNCN 15.07/1 Rio Unuyacu, afluente de Napo (Ecuador)

---

Peru


MUSM_MP_001
Rio Purús, just upstream Esperanza, Peru


BMNH_MP_428
Peru


MUSM_MP_0017
Rio Purús, 9° 55.860' S, 70°, 53.239' W, Peru


MCZ_74218
Chyavetas, Upper Amazon


AMNH_89225
Rio Neshuya, carret Pucallpa-Huanuco, km. 62


AMNH_89119
Rio Ucayali, Peru


INHS_35119
Río Alto Yurúa (Río Amazon - Río Yurúa Dr.), between Breu and Victoria, Ucayali, Peru, -9.55585, -72.77500


INHS_35120
Río Huacapishtea (Río Amazon - Río Yurúa Dr.), above confluence with Río Yurúa, at rapids, Ucayali, Peru, -9.76861, -72.70327


BMNH_68-4-3-6
Forest streams near Chyavetas, Upper Amazons [Brazil]


INHS_35129
Río Alto Yurúa (Río Amazon - Río Yurúa Dr.), above Brazilian border, just below mouth of quebrada, Ucayali, Peru, -9.43168, -72.74274


FMNH_30070
Rio Neshuya, affluent of Rio Ucayali, Departmento de Loreto, Peru

INPA_1366 Peru: Ucayali: (Amazon - Ucayali): rio Nishuya: Pucallpa: -8.28333 -75.05

---

unknown


ANSP_125403
Upper Amazon


UMMZ_112699
South America
Page updated: 11:34:50 Sun 01 Oct 2023