Page last updated
Wed 27 Sep 2023
The Freshwater Mussels (Unionoida) of the World (and other less consequential bivalves)
FM(U)otW(aolcb) is the web version of the MUSSEL Project Database. Follow the links to browse the data or use the custom Google search field. Either way, you win!
This page reports the specimens in the MUSSELpdb and provides a map if geocodes are known. The taxonomic history reports the record of different names and combinations that have been applied to this species (and its synonyms) since 2007.
Search the database pages:
---
Unionoida | Unionoidea | Unionidae | Ambleminae | Lampsilini | Cambarunio
species Cambarunio iris (Lea, 1829): specimens
24 nominal species as synonyms
Taxonomic History (since 2007)

Villosa iris — Tiemann et al. (2007), Graf & Cummings (2007), Williams et al. (2008), Watters et al. (2009), ..., Gasparini et al. (2020), Klymus et al. (2020), Bolotov et al. (2020), Jeratthitikul et al. (2022)
Cambarunio iris — Watters (2018), Pfeiffer et al. (2019), Graf & Cummings (2021), FMCS (2021)
Leaunio vanuxemensis — Watters (2018)
Range: Widespread in the Interior and Great Lakes basins, Canada and USA. Introduced to the Atlantic Slope in the Susquehanna River.
Map of Georeferenced Specimens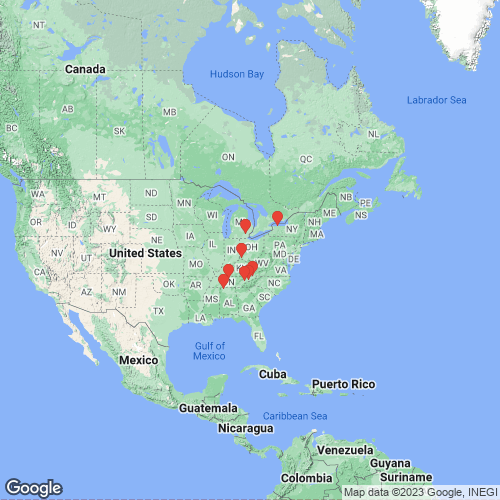 ---

USA


USNM_85264
Tennessee


USNM_85266
Holston R., Tenn


MCZ_161893
Michigan


USNM_85094
E Tennessee


USNM_85026
Big Pigeon R., Tenn


USNM_85128
Tennessee


USNM_85130
Cumberland R., Tenn


USNM_85034
Bull R., Tenn


USNM_85067
French Broad River, E Tenn


USNM_86035
Cincinnati, Ohio


USNM_86042
Oak Orchard Cr., N.Y.


USNM_86047
Holston R., Tenn


USNM_85070
Holston R., Tenn


ANSP_56456
Tennessee


USNM_85084
Tuscumbia, Alabama
Genbank Vouchers
UMMZ_265713 (COI, 28S) Big Mocassin Creek, VA.
UMMZ_265712 (COI) Huron River, MI.
UAUC_2701 (ND1).
Page updated: 10:56:58 Wed 27 Sep 2023