Page last updated
9 August 2018
Unionoida cum Grano Salis
Afrotropical Region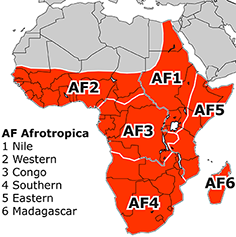 The Afrotropical Region is composed of Sub-Saharan Africa as well as the Nile Basin and Madagascar. The rest of northern Africa is considered to be part of the Palearctic Region. A total of 79 species (16 genera) are known from the Afrotropical Region, in three families: Unionidae, Iridinidae and Etheriidae.
The Afrotropical region is divided into six subregions based upon the distributions of the freshwater mussels. The Nile Subregion (AF1; 7 genera, 26 spp.) extends from the Delta on the Mediterranean to the giant lakes Victoria, Albert and Edward. The Western Subregion (AF2; 7 genera, 18 spp.) includes the Niger, Chad-Chari, Senegal and other basins, and it has a mussel fauna that is quite similar to that of the Nile. The Congo Subregion (AF3; 13 genera, 34 spp.) includes not only the Congo Drainage but the watersheds south of the Niger and Chari basins. The freshwater mussel diversity of the Southern Subregion (AF4; 7 genera, 16 spp.) is highest in the Zambezi and decreases further south. The Eastern Subregion (AF5; 3 genera, 4 spp.) is composed of the coastal streams of eastern Africa and is relatively depauperate.
Only two species (2 genera) are believed to occur in the Madagascar Subregion (AF6.) Historically, a few more species had been recognized from the Mascarene Islands, but those records have been shown to be dubius as best.
These tallies are based upon some of our own revisionary work. More information can be found on other web pages on this site. The freshwater mussels of Madagascar page reviews the available data on this poorly understood assemblage.
Endemic species are marked with an asterisk (*).
Nile Subregion (AF1)

Aspatharia chaiziana
Aspatharia divaricata*
Aspatharia marnoi*
Chambardia bourguignati*
Chambardia letourneuxi*
Chambardia rubens
Chambardia trapezia*
Chambardia wahlbergi
Coelatura aegyptiaca
Coelatura alluaudi*
Coelatura bakeri*
Coelatura cridlandi*
Coelatura hauttecoeuri*

Coelatura rothschildi*
Coelatura stuhlmanni*
Etheria elliptica
Mutela alluaudi*
Mutela bourguignati*
Mutela dubia
Mutela rostrata
Nitia acuminata*
Nitia chefneuxi*
Nitia monceti*
Nitia teretiuscula
Unio abyssinicus*
Unio mancus

Western Subregion (AF2)

Aspatharia chaiziana
Aspatharia dahomeyensis*
Aspatharia droueti*
Aspatharia pangallensis*
Aspatharia rochebrunei*
Chambardia rubens
Chambardia wahlbergi
Chambardia wissmanni
Coelatura aegyptiaca

Coelatura essoensis*
Etheria elliptica
Mutela dubia
Mutela franci*
Mutela joubini
Mutela rostrata
Nitia mutelaeformis*
Nitia teretiuscula
Pleiodon ovatus*

Congo Subregion (AF3)

Aspatharia ganciniensis*
Aspatharia pfeifferiana*
Aspatharia rugifera
Brazzaea anceyi*
Chambardia flava*
Chambardia nyassaensis
Chambardia wissmanni
Chelidonopsis hirundo*
Coelatura briarti*
Coelatura choziensis*
Coelatura disciformis*
Coelatura gabonensis*
Coelatura horei*
Coelatura kipopoensis*
Coelatura leopoldvillensis*
Coelatura lobensis*
Coelatura luapulaensis*

Coelatura stagnorum*
Etheria elliptica
Grandidieria burtoni*
Moncetia anceyi*
Mutela dubia
Mutela hargeri*
Mutela joubini
Mutela langi*
Mutela legumen*
Mutela mabilli*
Mutela rostrata
Mutela soleniformis*
Nyassunio ujijiensis*
Pleiodon spekii*
Prisodontopsis aviculaeformis*
Prisodontopsis mweruensis*
Pseudospatha tanganyicensis*

Southern Subregion (AF4)

Aspatharia rugifera
Aspatharia subreniformis*
Chambardia moutai*
Chambardia nyassaensis
Chambardia petersi*
Chambardia wahlbergi
Chambardia welwitschii*
Coelatura hypsiprymna*

Coelatura kunenensis*
Coelatura mossambicensis
Etheria elliptica
Mutela alata*
Mutela wistarmorrisi*
Mutela zambesiensis*
Nyassunio nyassaensis*
Unio caffer*

Eastern Subregion (AF5)

Chambardia wahlbergi
Coelatura mossambicensis

Coelatura ratidota*
Etheria elliptica

Madagascar Subregion (AF6)

Etheria elliptica

Germainaia geayi*