Page last updated
8 August 2018
Unionoida cum Grano Salis
Family "Iridinidae"


Global Diversity of the "Iridinidae". The red wedge of the pie represents the relative species diversity of the family (40 of 927).
Family "Iridinidae"
Subfamily Iridininae
Subfamily Aspathariinae
The "Iridinidae" (6 genera, 40 spp.) is a long-recognized taxon, endemic to Afrotropica. The family has traditionally been divided among two subfamilies, and recent analyses have suggested that the "Iridinidae" is not monophyletic. While we wait for more data, we will continue to use this family name.
Superfamily ETHERIOIDEA Deshayes, 1830
Family IRIDINIDAE Swainson, 1840
Subfamily IRIDININAE s.s.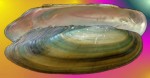 Mutela Scopoli, 1777
Mutela dubia (Gmelin, 1791)
Mutela alata (Lea, 1864)
Mutela alluaudi Germain, 1909
Mutela bourguignati Bourguignat, 1885
Mutela franci Daget, 1964
Mutela hargeri E.A. Smith, 1908
Mutela joubini (Germain, 1904)
Mutela langi Pilsbry & Bequaert, 1927
Mutela legumen (Rochebrune, 1886)
Mutela mabilli (Rochebrune, 1886)
Mutela rostrata (Rang, 1835)
Mutela soleniformis Bourguignat, 1885
Mutela wistarmorrisi Graf & Cummings, 2006
Mutela zambesiensis Mandahl-Barth, 1988
Chelidonopsis Ancey, 1887
Chelidonopsis hirundo (Martens, 1881)
Pleiodon ovatus (Swainson, 1823)
Pleiodon spekii (Woodward, 1859)
Subfamily ASPATHARIINAE Modell, 1942
Aspatharia Bourguignat, 1885
Aspatharia rugifera (Dunker, 1858)
Aspatharia chaiziana (Rang, 1835)
Aspatharia dahomeyensis (Lea, 1859)
Aspatharia divaricata (Martens, 1897)
Aspatharia droueti (Chaper, 1885)
Aspatharia ganciniensis (Rochebrune, 1886)
Aspatharia marnoi (Jickeli, 1874)
Aspatharia pangallensis (Rochebrune, 1882)
Aspatharia pfeifferiana (Bernardi, 1860)
Aspatharia rochebrunei (Jousseaume, 1886)
Aspatharia subreniformis (Sowerby, 1867)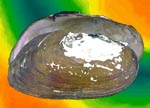 Chambardia Bourguignat in Servain, 1890
Chambardia letourneuxi Bourguignat in Servain, 1890
Chambardia bourguignati (Bourguignat, 1885)
Chambardia flava (Pilsbry & Bequaert, 1927)
Chambardia moutai (Dartevelle, 1939)
Chambardia nyassaensis (Lea, 1864)
Chambardia petersi (Martens, 1860)
Chambardia rubens (Lamarck, 1819)
Chambardia trapezia (Martens, 1897)
Chambardia wahlbergi (Krauss, 1848)
Chambardia welwitschii (Morelet, 1868)
Chambardia wissmanni (Martens, 1883)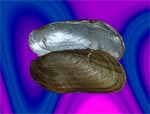 Moncetia Bourguignat, 1885
Moncetia anceyi Bourguignat, 1885