nominal species Diplodon parodizi Bonetto, 1962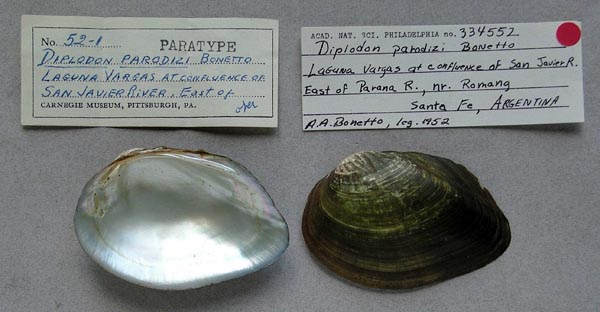 Bonetto, 1962, Publ. Téch. Dir. Gen. Rec. Nat. (8): 214, text fig. on p. 216.
Bonetto, 1965, Anais Congr. Lat.-Amer. Zool. 2: 45.
Type(s): PARATYPE ANSP_334552, Laguna Vargas at confluence of Arroyo Malabrigo with San Javier River, near Romang (10 km. from Parana Riv.).
Taxonomic Opinions
= Diplodon (s.s.) parodizi Bonetto, 1960 — (Torres et al., 2018)
= Diplodon (s.s.) parodizi Bonetto, 1960 — (Pereira et al., 2014)
= Diplodon parodizi Bonetto, 1962 — (Bogan, 2010)
= Diplodon (s.s.) parodizi Bonetto, 1960 — (Rumi et al., 2008)
= Diplodon parodizi Bonetto, 1962 — (Graf & Cummings, 2007)
= Diplodon parodizi (Bonetto, 1960) — (Simone, 2006)
= Diplodon parodizi Bonetto, 1961 — (Quintana, 1982)
= Diplodon (Schleschiella) burroughianus parodizi Bonetto, 1962 — (Haas, 1969)
= Diplodon parodizi Bonetto, 1962 — (Parodiz, 1968)
= Diplodon (s.s.) parodizi Bonetto, 1960 [sic] — (Bonetto, 1965)
= Diplodon parodizi Bonetto, 1962 — (Bonetto, 1962)