Page last updated
Thu 08 Apr 2021
The Freshwater Mussels (Unionoida) of the World (and other less consequential bivalves)
FM(U)otW(aolcb) is the web version of the MUSSEL Project Database. Follow the links to browse the data or use the custom Google search field. Either way, you win!
This page reports the specimens in the MUSSELpdb and provides a map if geocodes are known. The taxonomic history reports the record of different names and combinations that have been applied to this species (and its synonyms) since 2007.
Search the database pages:
---
Unionoida | Unionoidea | Unionidae | Ambleminae | Lampsilini | Friersonia
species Friersonia iridella (Pilsbry & Frierson, 1908): specimens
1 nominal species
Range: Endemic to southern Mexico in the vicinity of the Rio Panuco.
Map of Georeferenced Specimens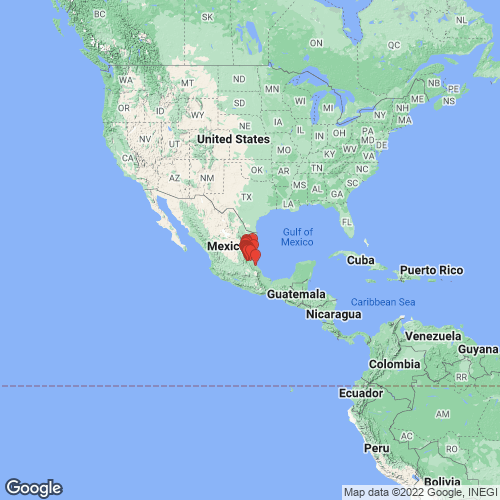 ---

Mexico


FMNH_21846
Tampico, Mexico


FMNH_68080
Rio Valles, San Luis Potosi, Mexico


FMNH_68438
Rio Valles, San Luis Potosi, Mexico


FMNH_198376
Rio Valles, Valles, Mexico


UF_270363
Valles River, San Luis Potosi, Mexico


UF_270368
Casa Viejas, River, San Luis Potosi, Mexico


UF_270369
Casa Viejas, River, San Luis Potosi, Mexico


UF_270370
Valles River, San Luis Potosi, Mexico


UF_270371
Valles River, San Luis Potosi, Mexico


MNHN-IM-2000-1811
Valles River, San Luis Potosi, Mexico


UF_270411
large creek, 18 km N Aquismon, San Luis Potosi, Mexico 21° 43.8' N, 99° 06.2' W


UF_518541
Rio Valles> Rio Panuco Near Ciudad Valles San Luis Potosi, Mexico


UF_270416
creek, 2 km E Aquismon, 21° 37.4' N, 99° 00.0' W, San Luis Potosi, Mexico


NCSM_MFM_5085
Valles River, Valles, San Luis Potosi, Mexico


ZMB_61686
Valles River, Mexico


UF_271144
Rio Sabinas, Hwy 85, Sabinas, Tamaulipas, Mexico


UF_283684
Rio Micos [Valles] Estacion de Micos, San Luis Potosi, Mexico


UF_283685
Rio Micos [Valles] Estacion de Micos, San Luis Potosi, Mexico


UF_283761
Arroyo Grande, 8 km NE Taniajas, 21° 40.6' N, 98° 49.5' W, San Luis Potosi, Mexico


NCSM_MFM_19307
Rio Axtla, Comoca, 75 km S Valles, San Luis Potosi, Mexico


UF_285361
Arroyo el Frijolar, NE of Tambaca, ca. 2 km NW Rascon, San Luis Potosi, Mexico


MNHN_MP_1291
Valles River, Mexico


ANSP_99516
Moctezuma R., S.L. Potosi, Mex.


ANSP_99517
Moctezuma R., Mex.


ANSP_99518
Casa Viejas, T., S.L. Potosi, Mex.


BMNH_1908-12-17-5
Valles River, State of San Luis Potosi, Mexico


ANSP_58559
Valles River, Valles, Mexico


INHS_21757
Rio Casas Viejas, N of Valles, San Luis Potosi, Mexico


INHS_21736
Coy River, Mexico


INHS_82278
Casas Viejas River, Mexico


INHS_82193
Casas Viejas River, Mexico


INHS_82194
Moctezuma River, Mexico


ANSP_93810
Tampico, Mex.


INHS_82207
Valles River, Valles, Mexico


INHS_21734
Rio Panuco, Pujal, San Luis Potosi, Mexico


INHS_21735
Tampamolon Creek, Tampamolon, [San Luis Potosi], Mexico


INHS_31731
Rio Valles, Willis Ranch, San Luis Potosi, Mexico


INHS_21718
Valles River, Mexico


INHS_21723
Valles River, Mexico


INHS_21729
Rio Valles, 2 mi above Micos, San Luis Potosi, Mexico


INHS_21730
Rio Valles, 2 mi above Micos, San Luis Potosi, Mexico


INHS_21731
Rio Valles, 2 mi W Micos, above rapids, Mexico


INHS_21732
Rio Valles, 2 mi W Micos, above rapids, Mexico


INHS_21733
Rio Valles, 2 mi W Micos, above rapids, Mexico


USNM_1282415B
Valles River, ca. 0.4 roadmiles S (downriver) of railroad station in Micos, ca. 1.5 mi N (toward Micos) of Plantas Hidroelectrica de Micos, ca. 14 mi NW of Ciudad Valles, San Luis Potosi, Mexico


INHS_21724
Rio Valles, between Valles and Pujal, San Luis Potosi, Mexico


INHS_21725
Rio Valles, between Valles and Pujal, San Luis Potosi, Mexico


USNM_1282422
Tamaulipas, Rio Carrizal at Rt. Mex. 180 in Nuevo Progreso, ca. 20.8 mi N of road divergence (on Rt. Mex. 180) to Aldma and Est. Manuel


INHS_21758
Rio Valles, Valles, Mexico


USNM_1282423-24
Tamaulipas, stream at Rt. Mex. 80 ca. 3.1 roadmiles E of Ciudad Mante (measured from circle in southern Mante where the Tampico, Mante, and Valles roads diverge)


USNM_1283188
Tamaulipas, Rio Sabinas at Rt. Mex. 85 near Sabinas, ca. 7.3 roadmiles S of El Encino, ca. 7 miles (not measured) N of intersection of Rt. Mex. 85 and the road to Xicotencatl


INHS_21719
Rio Valles, Valles, Mexico


INHS_21720
Rio Valles, Valles, Mexico


INHS_21721
Rio Valles, Valles, Mexico


INHS_21722
Rio Valles, Valles, Mexico


USNM_1282429
Tamaulipas, creek flowing into Rio Frio ca. 0.5 rivermiles (not measured) above bridge of Rt. Mex. 85 over Rio Frio at Rio Frio (town)


INHS_21727
Valles River, Willis Ranch, S of Valles, Mexico


INHS_21728
Valles River, Willis Ranch, S of Valles, Mexico


USNM_1282426
Small river (local people call it Arroyo los Gatos), presumably a headwaters stream of the Casas Viajas system, at Rt Mx 80 in Nuevo Morelos (ca. 0.7 roadmiles from sign on E end of town), ca. 12.1 roadmiles along Rt Mx 80 W of Antiguo Morelos, Tamaulipas, Mexico


USNM_1282427
Small river (local people call it Arroyo los Gatos), presumably a headwaters stream of the Casas Viajas system, at Rt Mx 80 in Nuevo Morelos (ca. 0.7 roadmiles from sign on E end of town), ca. 12.1 roadmiles along Rt Mx 80 W of Antiguo Morelos, Tamaulipas, Mexico


USNM_1282428
Small river (local people call it Arroyo los Gatos), presumably a headwaters stream of the Casas Viajas system, at Rt Mx 80 in Nuevo Morelos (ca. 0.7 roadmiles from sign on E end of town), ca. 12.1 roadmiles along Rt Mx 80 W of Antiguo Morelos, Tamaulipas, Mexico


USNM_1282430-31
Small river (local people call it Arroyo los Gatos), presumably a headwaters stream of the Casas Viajas system, at Rt Mx 80 in Nuevo Morelos (ca. 0.7 roadmiles from sign on E end of town), ca. 12.1 roadmiles along Rt Mx 80 W of Antiguo Morelos, Tamaulipas, Mexico


USNM_1282412-13
San Luis Potosi, Rio Ganina at road to Estacion Rascon, ca. 3.4 roadmiles N of the junction of this road with Rt. Mex. 70 (this junction is ca. 19.5 roadmiles W of the junction of Rt. Mex. 85 and Rt. Mex. 70 in Ciudad Valles


USNM_1282414
San Luis Potosi, Rio Ganina at road to Estacion Rascon, ca. 3.4 roadmiles N of the junction of this road with Rt. Mex. 70 (this junction is ca. 19.5 roadmiles W of the junction of Rt. Mex. 85 and Rt. Mex. 70 in Ciudad Valles


UF_93152
Tampico, Tamaulipas, Mexico


UF_93153
Valles River, 2 mi above Micos, San Luis Potosi, Mexico


UF_93155
Casas Viejas River, San Luis Potosi, Mexico


UF_93156
Valles River, 2 mi above Micos, San Luis Potosi, Mexico


USNM_1282421
San Luis Potosi, river (called Rio Estero by local man) at Rt. Mex. 110 ca. 17.6 roadmiles E of intersection of Rt. Mex. 110 and Rt. Mex. 85 in Ciudad Valles


UF_93159
Valles River, Willis Ranch, San Luis Potosi, Mexico


UF_93160
Valles River, San Luis Potosi, Mexico


USNM_1282415
Valles River, ca. 0.4 roadmiles S (downriver) of railroad station in Micos, ca. 1.5 mi N (toward Micos) of Plantas Hidroelectrica de Micos, ca. 14 mi NW of Ciudad Valles, San Luis Potosi, Mexico


MCZ_288434
river, 2.7 mi W Rascon, San Luis Potosi, Mexico


AMS_102125
river, 2.7 mi W Rascon, San Luis Potosi, Mexico


AMS_102124
creek, 2.3 mi E Agua Buena, San Luis Potosi, Mexico


USNM_1282432
Veracruz, creek reached by turning W at N end of bridge of Rt. Mex. 130 (ca. 1.1 roadmiles N of intersection of Rt. Mex. 130 and Rt. Mex. 180 in Poza Rosa), going W for ca. 0.8 roadmiles and turning S onto farm road for ca. 0.5 roadmiles


OSUM_46819
Rio Axtla, Comoca, 46 mi S Valles, San Luis Potosi, Mexico


OSUM_68527
Rio Valles, Valles, San Luis Potosi, Mexico


OSUM_68528
Rio Valles, Valles, San Luis Potosi, Mexico


USNM_1282416-17
San Luis Potosi, Rio Huichiuayan at road to Xilitla ca. 0.7 road miles from its junction with Rt. Mex. 85 (this junction is ca. 43.6 roadmiles S of junction of Rt. Mex. 85 and Rt. Mex. 70 in Ciudad Valles). N21°25'30" W9?°54'30"


USNM_1282418
Small river (local lad called it Rio Vallejares and said it was tributary to Rio Ganina) at bridge of Estacion Rascon-Damian Carmona road ca 1.8 roadmiles N of railroad crossing in Estacion Rascon, San Luis Potosi, Mexico


FMNH_21845
Rio Valles, San Luis Potosi, Mexico


USNM_1282419
Small river (locals call it Arroyo de Oxitipa) at paved road ca. 2.1 roadmiles E of Aquismon, San Luis Potosi, Mexico


USNM_1282420
Rio Huichiuayan at road to Xilitla ca. 0.7 roadmiles from its junction with Rt Mx 85 (this junction is ca 43.6 roadmiles S of junction of Rt Mx 85 and 70 in Ciudad Valles), San Luis Potosi, Mexico.


UF_229268
Valles River, Valles, Mexico


USNM_1282435
Veracruz, Rio Tempoal (or Rio Calabazo) at Rt. Mex. 105 between Tempoal and Platon Sanchez. N21°25'00" W98°23'30" 8 Feb 82


USNM_1282436-41
Veracruz, Rio Tempoal (or Rio Calabazo) at Rt. Mex. 105 between Tempoal and Platon Sanchez. N21°25'00" W98°23'30" 8 Feb 82

ANSP_99519 Casa Viejas, T., S.L. Potosi, Mex.

CHAS_25164 Casas Viejas River, San Luis Potosi, Mexico

ANSP_99537 Coy River, San Luis Potosi, Mexico

UMMZ_91181 Coy River, San Luis Potosi, Mexico

MCZ_93352 Galles R., San Luis Potosi, Mexico

ANSP_99539 Mecos, NE Mexico

BMNH_1910-9-30-162-164b Mecos, NE Mexico

MCZ_236791 Mexico, Tamaulipas, 26 km. N. of Victoria, Rio Santa Engracia

MCZ_288417 Mexico, Vera Cruz, .7 miles of Hueyapan de Ocampo, Creek

NCSM_55392 Rio Axtla, Comoca

MCZ_272908 Rio Axtla, Comoca, 46 mi S Valles, San Luis Potosi, Mexico

MCZ_288423 Rio Buena Vista 1.7 miles S of Alazan, Vera Cruz, Mexico

UMMZ_195172 Rio Corona, 3.5 mi. E Guemez [23.937066, -98.936455]

UMMZ_108042 Rio Valles, 2 mi above Micos, San Luis Potosi, Mexico

UMMZ_50833 Rio Valles, Valles, San Luis Potosi, Mexico

MCZ_69874 San Louis Potosi, Valles, Valles River, Mexico

USNM_1282425 Tamaulipas, Rio Sabinas at Rt. Mex. 85 near Sabinas, ca. 7.3 roadmiles S of El Encino, ca. 7 miles (not measured) N of intersection of Rt. Mex. 85 and the road to Xicotencatl

ANSP_99540 Valles River, 2 mi above Mecos, Mexico

UMMZ_108003b Valles River, 2 mi above Mecos, Mexico

MCZ_16977 Valles River, Mexico

MCZ_236792 Valles River, Mexico

MCZ_30034 Valles River, Mexico

CHAS_1909.2921.2 Valles River, San Luis Potosi, Mexico

CHAS_25163 Valles River, San Luis Potosi, Mexico

UMMZ_54095 Valles River, San Luis Potosi, Mexico

ANSP_98531 Valles River, Valles, Mexico

ANSP_98538 Valles River, Valles, Mexico

ANSP_98555 Valles River, Valles, Mexico

ANSP_99532 Valles River, Valles, Mexico

ANSP_99533 Valles River, Valles, Mexico

ANSP_99534 Valles River, Valles, Mexico

ANSP_99535 Valles River, Valles, Mexico

ANSP_99536 Valles River, Valles, Mexico

CM_61.4495 Valles River, Valles, Mexico

MCZ_100405 Valles River, Valles, Mexico

UMMZ_66445 Valles River, at Valles, San Luis Potosi, Mexico

CHAS_1909.2921.3 Valles River, between Valles and Pujal, Ranch of G.P. Willis, San Luis Potosi, Mexico

CHAS_25162 Valles River, between Valles and Pujal, Ranch of G.P. Willis, San Luis Potosi, Mexico

CHAS_22285 Valles, San Luis Potosi, Mexico

MCZ_45967 Valles, Valles River, Mexico

UMMZ_66446 Willis Ranch between Valles and Pujal, San Luis Potosi, Mexico

MCZ_288425 creek, 4.6 mi W Suchilapan, Veracruz, Mexico

MCZ_288439 creek, 5.4 mi W Suchilapan, Veracruz, Oaxaca, Mexico
Page updated: 08:28:26 Thu 08 Apr 2021