Page last updated
Thu 08 Apr 2021
The Freshwater Mussels (Unionoida) of the World (and other less consequential bivalves)
FM(U)otW(aolcb) is the web version of the MUSSEL Project Database. Follow the links to browse the data or use the custom Google search field. Either way, you win!
This page reports the specimens in the MUSSELpdb and provides a map if geocodes are known. The taxonomic history reports the record of different names and combinations that have been applied to this species (and its synonyms) since 2007.
Search the database pages:
---
Unionoida | Unionoidea | Unionidae | Ambleminae | Lampsilini | Potamilus
species Potamilus metnecktayi R.I. Johnson, 1998: specimens
2 nominal species as synonyms
Taxonomic History

Potamilus metnecktayi — Graf & Cummings (2007), Cummings & Graf (2010), Bogan (2010), Breton et al. (2011), Williams et al. (2017), Chase et al. (2018), Smith et al. (2019), Burlakova et al. (2019), Smith et al. (2020), Inoue et al. (2020), Tiemann et al. (2020), Graf & Cummings (2021)
Range: Rio Grande Basin, Tamaulipas, Mexico.
Map of Georeferenced Specimens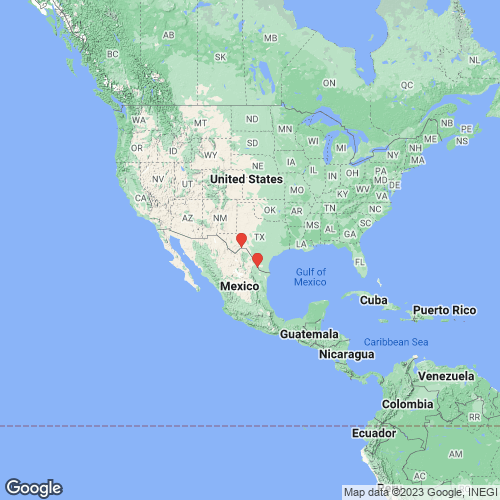 ---

Mexico


UMMZ_255018
Rio Salado, 45 mi S Nuevo Laredo, Tamaulipas, Mexico

UTEP_4844 Municipio Villa Juarez

MCZ_319587 Rio Salado, 45 mi S Nuevo Laredo, Tamaulipas, Mexico

UMMZ_255019 Rio Salado, 45 mi S Nuevo Laredo, Tamaulipas, Mexico

UMMZ_66993 Rio Salado, 45 mi S Nuevo Laredo, Tamaulipas, Mexico

---

USA

UTEP_2519 6 mi W Del Rio, Texas

USNM_1138087 Jonh's Marina, South of Dryden

UF_439058 Rio Grande [16.9 mi. S of Dryden, TX]

UTEP_4660 Rio Grande at Chapeno gauging station,around islands, ca. 1,8 mi downstream, SE, from Falcon Dam powerhouse

UF_438911 Rio Grande, 1200 m downstream Drydens Crossing

UTEP_4639 Starr County, Texas.

UTEP_14597 arroyo above Squaw Spring, Indio Mountains Ranch Station
Page updated: 08:31:11 Thu 08 Apr 2021