Page last updated
Thu 07 Dec 2023
The Freshwater Mussels (Unionoida) of the World (and other less consequential bivalves)
FM(U)otW(aolcb) is the web version of the MUSSEL Project Database. Follow the links to browse the data or use the custom Google search field. Either way, you win!
This page documents data for Clarke (1985), such as genera and species attributed to that publication (including known misspellings, misidentifications, and other unavailable names) as well as taxonomic opinions, if available. Taxonomic opinions refer to uses of genera and species as valid and invalid in that work.
Search the database pages:
---
Publication information
Clarke, A.H. 1985. The tribe Alasmidontini (Unionidae: Anodontinae), Part II: Lasmigona and Simpsonaias. Smithsonian Contributions to Zoology (399). iii + 75 pp.
Click here for online access.
Attributed Genus Names
Elasmigena Clarke, 1985
'Herrmannsen' Clarke, 1985, Smithson. Contrib. Zool. (399): 2.
(error for Elasmogena Herrmannsen, 1852)
Attributed Species Names
Unio pertenius Clarke, 1985
'Lea' Clarke, 1985, Smithson. Contrib. Zool. (399): l51.
(error for Unio pertenuis Lea, 1863)
Lasmigona (Lasmigona) complanata alabamensis Clarke, 1985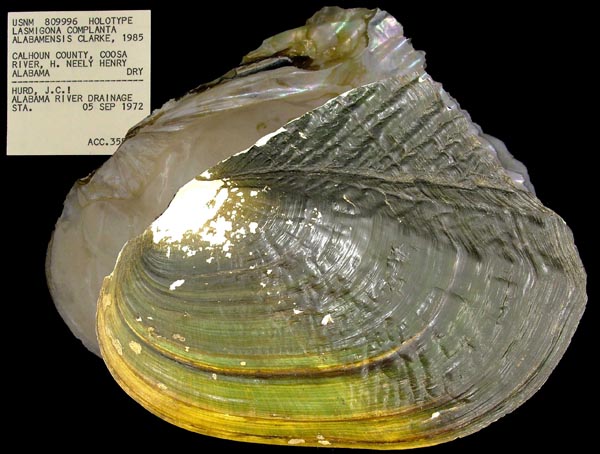 Clarke, 1985, Smithson. Contrib. Zool. (399): 36, fig. 10.
(intro'd as intra-sp. of Alasmodonta complanata Barnes, 1823)
Type(s): HOLOTYPE USNM_809996, Coosa River, (Alabama River Dr.), H. Neely Henry Lake, Calhoun Co., Alabama.
Taxonomic Opinions
Lasmigona (Alasminota) holstonia (Lea, 1838)
+ Sulcularia badia Rafinesque, 1831
+ Margaritana etowaensis Conrad, 1849
+ Margaritana etowahensis Lea, 1858
+ Margaritana georgiana Lea, 1859
+ Alasmodonta impressa J.G. Anthony, 1865
+ Unio holstonianus Sowerby, 1868
Lasmigona (Platynaias) compressa (Lea, 1829)
+ Unio alasmodontina Lea, 1829
+ Unio compressus var. plebius C.B. Adams, 1842
+ Margaron (Unio) pressus Lea, 1852
Lasmigona (Platynaias) decorata (Lea, 1852)
+ Unio charlottensis Lea, 1863
+ Unio insolidus Lea, 1872
Lasmigona (Platynaias) subviridis (Conrad, 1835)
+ Unio viridis Conrad, 1835
+ Unio tappanianus Lea, 1838
+ Unio hyalinus Lea, 1845
+ Margaritana quadrata Lea, 1861
+ Unio pertenuis Lea, 1863
Lasmigona (s.s.) complanata alabamensis Clarke, 1985
Lasmigona (s.s.) complanata complanata (Barnes, 1823)
+ Unio gigas Swainson, 1824
+ Unio katherinae Lea, 1838
+ Complanaria gigas Swainson, 1840
Lasmigona (s.s.) costata (Rafinesque, 1820)
+ Alasmodonta rugosa Barnes, 1823
+ Amblasmodon hians Rafinesque, 1831
+ Lasmigona costata var. ereganensis Grier, 1918
+ Lasmigona costata pepinensis F.C. Baker, 1928
+ Lasmigona costata nuda F.C. Baker, 1928
Simpsonaias ambigua (Say, 1825)
+ Unio hildrethianus Lea, 1834
+ Alasmidonta dubia Ferussac, 1835
Page updated: 09:26:46 Thu 07 Dec 2023