Page last updated
Wed 27 Sep 2023
The Freshwater Mussels (Unionoida) of the World (and other less consequential bivalves)
FM(U)otW(aolcb) is the web version of the MUSSEL Project Database. Follow the links to browse the data or use the custom Google search field. Either way, you win!
This page documents data for Bonetto (1965), such as genera and species attributed to that publication (including known misspellings, misidentifications, and other unavailable names) as well as taxonomic opinions, if available. Taxonomic opinions refer to uses of genera and species as valid and invalid in that work.
Search the database pages:
---
Publication information
Bonetto, A.A. 1965. Las especies del género Diplodon en el sistema hidrografico del Rio de la Plata. Anais do Congresso Latino-Americano de Zoologia 2: 37-54.
Attributed Species Names
Unio greefeanus Haas, 1930
'von Ihering' of Authors.
Haas, 1930, Senckenbergiana 12: 192.
Bonetto, 1964, Physis 24(68): 325.
Bonetto, 1965, Anais Congr. Lat.-Amer. Zool. 2: 44.
(error for Unio greeffeanus Ihering, 1893)
Diplodon subcuadratus Bonetto, 1959
'Marshall' Bonetto, 1959, unknown publication: 55.
'Marshall' Bonetto, 1965, Anais Congr. Lat.-Amer. Zool. 2: 47.
(error for Diplodon subquadratus Marshall, 1922)
Diplodon parodizi Bonetto, 1962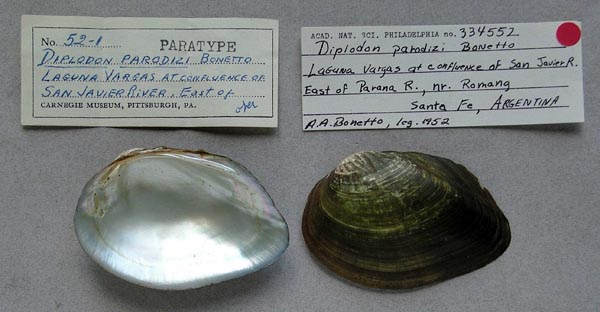 Bonetto, 1962, Publ. Téch. Dir. Gen. Rec. Nat. (8): 214, text fig. on p. 216.
Bonetto, 1965, Anais Congr. Lat.-Amer. Zool. 2: 45.
Type(s): PARATYPE ANSP_334552, Laguna Vargas at confluence of Arroyo Malabrigo with San Javier River, near Romang (10 km. from Parana Riv.).
Unio sancti-pauli Bonetto, 1964
'Ihering' Bonetto, 1964, Physis 24(68): 325.
'Ihering' Bonetto, 1965, Anais Congr. Lat.-Amer. Zool. 2: 44.
(error for Unio santi-pauli Haas, 1930)
Unio lepidioir Bonetto, 1964
'Lea' of Authors.
Bonetto, 1964, Physis 24(68): 327.
Bonetto, 1965, Anais Congr. Lat.-Amer. Zool. 2: 50.
Bonetto & Mansur, 1970, Acta Zool. Lilloana 27: 249.
Simone, 2006, Land. Freshw. Moll. Brazil.: 267.
(error for Margaron (Unio) lepidior Lea, 1870)
Diplodon fontaneanus Bonetto, 1965
'Orb.' Bonetto, 1965, Anais Congr. Lat.-Amer. Zool. 2: 42.
(error for Unio fontainiana d'Orbigny, 1835)
Unio soliciana Bonetto, 1965
'd'Orbigny' Bonetto, 1965, Anais Congr. Lat.-Amer. Zool. 2: 48.
(error for Unio solisiana d'Orbigny, 1835)
Unio garaniana Bonetto, 1965
'd'Orbigny' Bonetto, 1965, Anais Congr. Lat.-Amer. Zool. 2: 51.
(error for Unio guaraniana d'Orbigny, 1835)
Taxonomic Opinions
Diplodon (Rhipidodonta) charruanus (d'Orbigny, 1835)
+ Unio faba d'Orbigny, 1835
+ Unio lepidus Lea, 1860
+ Unio piger Lea, 1860
+ Unio gratus Lea, 1860
+ Unio nocturnus Lea, 1860
+ Unio peraeformis Lea, 1860
+ Unio funebralis Lea, 1860
+ Unio prunoides Lea, 1868
+ Margaron (Unio) lepidior Lea, 1870
+ Diplodon (s.s.) perplexus Simpson, 1914
+ Diplodon hidalgoi Haas, 1916
+ Diplodon fortis Marshall, 1917
+ Diplodon trivialoides Marshall, 1922
+ Diplodon podagrosus Marshall, 1923
Diplodon (Rhipidodonta) hylaeus (d'Orbigny, 1835)
+ Unio guaraniana d'Orbigny, 1835
+ Diplodon asuncionis Marshall, 1926
+ Schleschiella iheringi schadei Modell, 1950
Diplodon (Rhipidodonta) variabilis (Maton, 1811)
+ Unio paranensis Lea, 1834
+ Unio burroughianus Lea, 1834
+ Unio matoniana d'Orbigny, 1835
+ Unio solisiana d'Orbigny, 1835
+ Unio membranacea Hanley, 1843
+ Unio bulloides Lea, 1859
+ Unio locellus Lea, 1866
+ Unio paraguayanus Martens, 1895
+ Diplodon subquadratus Marshall, 1922
+ Diplodon (Bulloideus ?) perfragilis Marshall, 1923
Diplodon (s.s.) chilensis (Gray)
Diplodon (s.s.) delodontus delodontus (Lamarck, 1819)
+ Unio lacteolus Lea, 1834
+ Unio divaricatus Lea, 1834
+ Unio fokkesi Dunker, 1852
+ Unio rudus Lea, 1859
+ Unio paraguayensis Lea, 1866
+ Diplodon (Cyclomya) smithi Marshall, 1926
Diplodon (s.s.) delodontus expansus (Küster, 1856)
+ Unio eurhynchus Küster, 1861
+ Unio caipira Ihering, 1893
+ Unio greeffeanus Ihering, 1893
+ Unio aethiops var. piracicabana Ihering, 1893
+ Unio paulista Ihering, 1893
+ Unio guahybae Simpson, 1900
+ Diplodon (s.s.) leai Simpson, 1900
+ Unio bischoffi Simpson, 1914
+ Diplodon (s.s.) semigranosus Simpson, 1914
+ Diplodon (s.s.) mogymirim Ortmann, 1921
+ Diplodon decipiens Ortmann, 1921
+ Unio santi-pauli Haas, 1930
Diplodon (s.s.) delodontus wymanii (Lea, 1860)
+ Unio uruguayensis Lea, 1860
+ Unio apprimus Lea, 1866
+ Unio peculiaris Lea, 1866
+ Diplodon felipponei Marshall, 1917
Diplodon (s.s.) granosus multistriatus (Lea, 1831)
+ Unio pfeifferi Dunker, 1849
+ Unio firmus var. boettgeri Ihering, 1893
+ Diplodon (s.s.) santamariae Simpson, 1914
+ Diplodon (s.s.) mimus Simpson, 1914
+ Diplodon vicarius Ortmann, 1921
Diplodon (s.s.) parallelopipedon (Lea, 1834)
+ Unio acutirostris Lea, 1866
Diplodon (s.s.) parodizi Bonetto, 1960 [sic]
+ Unio burroughianus d'Orbigny, 1835
Diplodon (s.s.) rhuacoicus (d'Orbigny, 1835)
+ Unio piceus Lea, 1860
+ Unio aethiops Lea, 1860
+ Unio parcus Lea, 1866
+ Unio firmus Lea, 1866
+ Unio rhyacoicus Martens, 1868
+ Diplodon subcylindricus Marshall, 1922
Diplodon (s.s.) rotundus fontaneanus [sic] (Orb.)
Diplodon (s.s.) rotundus rotundus (Wagner, 1827)
+ Diplodon enno Ortmann, 1921
Diplodon (s.s.) trifidus (Lea, 1860)
Page updated: 12:19:06 Wed 27 Sep 2023