Page last updated
Wed 27 Sep 2023
The Freshwater Mussels (Unionoida) of the World (and other less consequential bivalves)
FM(U)otW(aolcb) is the web version of the MUSSEL Project Database. Follow the links to browse the data or use the custom Google search field. Either way, you win!
This page documents data for Prie (2012), such as genera and species attributed to that publication (including known misspellings, misidentifications, and other unavailable names) as well as taxonomic opinions, if available. Taxonomic opinions refer to uses of genera and species as valid and invalid in that work.
Search the database pages:
---
Publication information
Prie, V. 2012. Les sous-espèces de la Mulette méridionale Unio mancus Lamarck 1819 (Bivalvia, Unionidea) en France: descriptions originales et matériel topotypique. MalaCo 8: 428-446.
Click here for online access.
Attributed Species Names
Unio foroguliensis Locard, 1882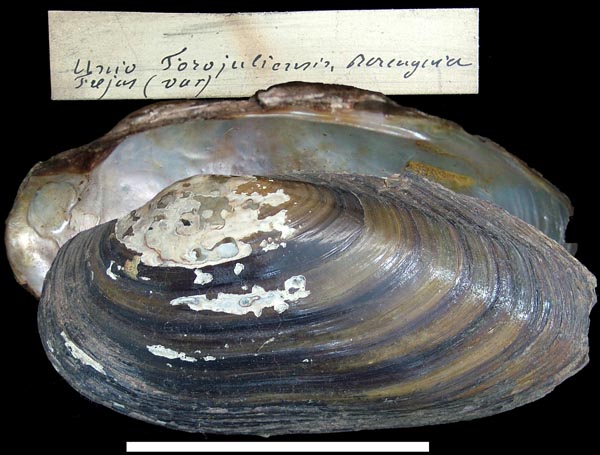 'Bérenguier' of Authors.
Locard, 1882, Prodr. Malac. Franç. 1: 293.
Haas, 1969, Das Tierreich 88: 37.
Prie, 2012, MalaCo 8: 431.
(incorrect original spelling of Unio forojuliensis Locard, 1882)
Type(s): AUTOMATIC MNHN_22223, Fréjus (Var).
Unio hollandrei Locard, 1889
'de Saulcy' of Authors.
Locard, 1889, Contr. Faune Malacol. Franc. 13: 167 [61].
Locard, 1893, Coqu. Eau Douce Saumâtre France: 201.
Germain, 1904, Bull. Soc. Sci. Nat. Ouest France 4: 278.
Germain, 1931, Faune de France 22: 736.
Prie, 2012, MalaCo 8: 431.
(error for Unio holandrei Locard, 1882)
Unio dollfusianus Locard, 1889
'Bourguignat' of Authors.
Locard, 1889, Contr. Faune Malacol. Franc. 13: 167 [61].
Germain, 1931, Faune de France 22: 736.
Prie, 2012, MalaCo 8: 431.
(error for Unio dolfusianus Locard, 1882)
Unio royanus Locard, 1889
'Locard' of Authors.
Locard, 1889, Contr. Faune Malacol. Franc. 13: 171 [65].
Westerlund, 1890, Fauna Paläarct. Binnenconch. 2(7): 110.
Germain, 1931, Faune de France 22: 737.
Prie, 2012, MalaCo 8: 432.
(error for Unio royianus Locard, 1889)
Unio meretrecis Germain, 1904
'Bourguignat' of Authors.
Germain, 1904, Bull. Soc. Sci. Nat. Ouest France 4: 267, footnote.
Germain, 1931, Faune de France 22: 737.
Prie, 2012, MalaCo 8: 432.
(error for Unio meretricis Locard, 1882)
Unio lusitanicus Germain, 1931
'Drouët' of Authors.
Germain, 1931, Faune de France 22: 736.
Prie, 2012, MalaCo 8: 434.
(error for Unio lusitanus Drouët, 1879)
Unio fascinellus Germain, 1931
'Servain' of Authors.
Germain, 1931, Faune de France 22: 736.
Prie, 2012, MalaCo 8: 431.
(error for Unio fascellinus Locard, 1882)
Unio subhispanicus Germain, 1931
'Castro in Locard' of Authors.
Germain, 1931, Faune de France 22: 737.
Prie, 2012, MalaCo 8: 432.
(error for Unio subhispanus Locard, 1889)
Unio lagnysiacus Germain, 1931
'Bourguignat in Locard' of Authors.
Germain, 1931, Faune de France 22: 724.
Prie, 2012, MalaCo 8: 430.
(error for Unio lagnisicus Locard, 1882)
Unio baudinii Haas, 1969
'Rossmässler' of Authors.
Haas, 1969, Das Tierreich 88: 35.
Fauna Europaea, 2012, Fauna Europa: [web].
Prie, 2012, MalaCo 8: 430.
(error for Unio bandinii Rossmässler, 1837)
Unio lingulformis Prie, 2012
'Wilcock, Locard' Prie, 2012, MalaCo 8: 431.
(error for Unio linguiformis Locard, 1893)
Unio bramichus Prie, 2012
'Baichère' Prie, 2012, MalaCo 8: 431.
(error for Unio bramicus Baichère, 1890)
Unio passaranti Prie, 2012
'Bourguignat in Locard' Prie, 2012, MalaCo 8: 433.
(error for Unio passavanti Locard, 1889)
Taxonomic Opinions
Unio mancus aleronii Companyo & Massot, 1845
Unio mancus bourgeticus Bourguignat in Locard, 1882
+ Unio mancus var. sabaudina Locard, 1882
+ Unio orthus Locard, 1882
+ Unio riciacensis Locard, 1882
+ Unio occidaneus Drouët, 1888
+ Unio mucidellus Locard, 1889
+ Unio (? requienii var.) voltzii Kobelt & Haas, 1910
+ Unio voltzii var. ursannensis Kobelt & Haas, 1910
Unio mancus brindosianus Folin & Bérillon, 1874
+ Unio moreleti Folin & Bérillon, 1874
+ Unio bayonnensis Folin & Bérillon, 1877
+ Unio lusitanus Drouët, 1879
Unio mancus mancus Lamarck, 1819
+ Unio ardusianus Reyniès, 1843
+ Unio valentinus Rossmässler, 1854
+ Unio courquinianus Bourguignat, 1865
+ Unio graellsianus Bourguignat, 1865
+ Unio condatinus Locard, 1882
+ Unio dubisianus Locard, 1882
+ Unio gobionum Locard, 1882
+ Unio lagnisicus Locard, 1882
+ Unio mucidulus Locard, 1882
+ Unio pilloti Locard, 1882
+ Unio rayi Locard, 1882
+ Unio asticus Servain, 1887
+ Unio eutrapelus Servain, 1887
+ Unio mongazonae Servain, 1887
+ Unio suborbicularis Drouët, 1888
+ Unio amblyus Locard, 1889
+ Unio arcuatulus Locard, 1889
+ Unio manculus Locard, 1889
+ Unio oberthurianus Locard, 1889
+ Unio zoasthenus Locard, 1889
+ Unio almenarensis Drouët, 1893
Unio mancus moquinianus Dupuy, 1843
+ Unio arcuata Bouchard-Chantereaux, 1838
+ Unio marcellinus Locard, 1882
+ Unio antimoquinianus Locard, 1889
+ Unio bouchardi Locard, 1889
+ Unio passavanti Locard, 1889
+ Unio scotinus Locard, 1889
+ Unio stygnus Locard, 1889
+ Unio consentaneus var. moquini Germain, 1931
Unio mancus requienii Michaud, 1831
+ Unio hispanus Rossmässler, 1844
+ Unio jacqueminii Dupuy, 1849
+ Unio requienii var. rostratus de Joannis, 1859
+ Unio dolfusianus Locard, 1882
+ Unio fabaeformis Locard, 1882
+ Unio fascellinus Locard, 1882
+ Unio gallicus Locard, 1882
+ Unio gobionum Locard, 1882
+ Unio holandrei Locard, 1882
+ Unio joannisi Locard, 1882
+ Unio jourdheuili Locard, 1882
+ Unio meretricis Locard, 1882
+ Unio pinciacus Locard, 1882
+ Unio orthellus Locard, 1882
+ Unio saintsimonianus Locard, 1882
+ Unio torsatellus Locard, 1882
+ Unio veillanensis Locard, 1882
+ Unio caficianus Bourguignat, 1883
+ Unio meretrix Bourguignat, 1883
+ Unio padanus Bourguignat, 1883
+ Unio aegericus Locard, 1889
+ Unio albanorum Locard, 1889
+ Unio aramonensis Locard, 1889
+ Unio ararisianus Locard, 1889
+ Unio atharsus Locard, 1889
+ Unio campylus Locard, 1889
+ Unio frayssianus Locard, 1889
+ Unio hydrelus Locard, 1889
+ Unio meyrannicus Locard, 1889
+ Unio mucidulinus Locard, 1889
+ Unio oesiacus Locard, 1889
+ Unio royianus Locard, 1889
+ Unio salmurensis Locard, 1889
+ Unio sousanus Locard, 1889
+ Unio subhispanus Locard, 1889
+ Unio talus Locard, 1889
+ Unio triffoiricus Locard, 1889
+ Unio vardonicus Locard, 1889
+ Unio baicheri Baichère, 1890
+ Unio bramicus Baichère, 1890
+ Unio arelatus Locard, 1893
+ Unio gibberulus Drouët, 1898
Unio mancus turtonii Payraudeau, 1826
+ Unio capigliolo Payraudeau, 1826
+ Unio bandinii Rossmässler, 1837
+ Unio forojuliensis Locard, 1882
+ Unio berenguieri Locard, 1882
+ Unio exauratus Locard, 1889
+ Unio prolatus Locard, 1893
+ Unio linguiformis Locard, 1893
Page updated: 12:22:02 Wed 27 Sep 2023