The Freshwater Mussels (Unionoida) of the World (and other less consequential bivalves)
FM(U)otW(aolcb) is the web version of the MUSSEL Project Database. Follow the links to browse the data or use the custom Google search field. Either way, you win!
This page reports the specimens in the MUSSELpdb and provides a map if geocodes are known. The taxonomic history reports the record of different names and combinations that have been applied to this species (and its synonyms) since 2007.
Search the database pages:
---
Unionoida | Unionoidea | Unionidae | Gonideinae | Rectidentini | Hyriopsis
species Hyriopsis kratiensis Pfeiffer, Graf, Cummings & Page, 2021: specimens
1 nominal species
Range: Mekong River, Laos and Cambodia.
Map of Georeferenced Specimens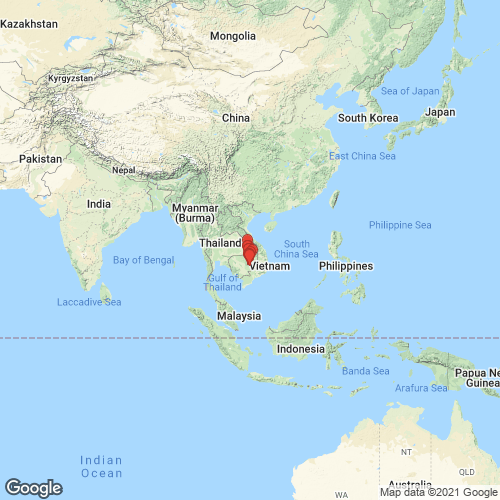 ---

Cambodia


UF_507414
Unknown tributary of Mekong just N of Phumi Prêk Krieng on AH11. CA16-07. 13.04014, 106.18086


UF_507415
Mekong River, 1.4 miles upstream from Sambour. CA16-08. 12.79459, 105.97255


MNHN_MP_3835
Sekong River pres Stung Treng


UF_507420
Mekong River, 700 ft downstream of Sandan. CA16-09. 12.68691, 106.01697


MCZ_240391
Cambodia


SMF_221307
Cambodia: Sekong River at Stung Treng


HMC_2439
Mekong River> Mekong River near Kracheh, Cambodia


MCZ_280896
Mekong River at Stung Treng, Cambodia


UF_507379
Tonle Srepok River, major bridge crossing on road from Stung Treng to Ban Lung. Srae Angkrorng, Ratanakiri, Cambodia. CA16-01. 13.44339, 106.60329


SMF_319606
Cambodia: Sekong at Stung Treng


SMF_319607
Cambodia: Mekong at Sambor


UF_507393
Tonle Sekong River, 1.6 miles upstream from AH11 Bridge. CA16-03. 13.54504, 106.01353


UF_507402
Mekong River, 5.17 miles upstream of Mekong and Sekong Confluence. CA16-05. 13.59515, 106.01447

UF_564754

---

Laos


SMRL_16941
Sedone river at 8 km 8 N of Pakse


MNHN_MP_3909
Mekong pres Mouang Khong [?]


MNHN_MP_3920
Laos Occidental


UMMZ_248793
Laos: Mekong River at Khong, South Laos


MCZ_280895
Laos: Mekong River at Ban Hin Siw [Siu], near Klong


USNM_704236
Mekong River, Ban Seo, Sithandone, Laos


SMF_205118
Laos: Mekong at Ban Hin Siu


SMF_319603
Laos: Mekong at Kong


SMF_319604
Laos: Sedone River at 8 km N Pakse


SMF_319605
Mekong, Khong Island

---

Thailand


SMF_319602
Mekong at Lao Luang
Genbank Vouchers
UF_507402 (ICH-00502) (COI, SRA).
UF_507402 (ICH-00501) (COI).
UF_507379 (ICH-00405) (COI).
UF_507415 (ICH-00544) (COI).
UF_507393 (ICH-00452) (COI).
UF_507379 (ICH-00403) (COI).
UF_507402 (ICH-00500) (COI).
UF_507402 (ICH-00502_AHE) (COI).
UF_507393 (ICH-00453) (COI).