The Freshwater Mussels (Unionoida) of the World (and other less consequential bivalves)
FM(U)otW(aolcb) is the web version of the MUSSEL Project Database. Follow the links to browse the data or use the custom Google search field. Either way, you win!
This page reports the specimens in the MUSSELpdb and provides a map if geocodes are known. The taxonomic history reports the record of different names and combinations that have been applied to this species (and its synonyms) since 2007.
Search the database pages:
---
Unionoida | Unionoidea | Unionidae | Gonideinae | Rectidentini | Hyriopsis
species Hyriopsis sakhonensis Pfeiffer, Graf, Cummings & Page, 2021: specimens
1 nominal species
Range: Songkhram Basin, Thailand.
Map of Georeferenced Specimens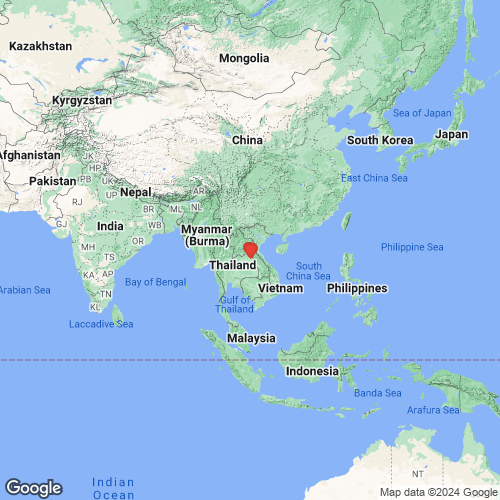 ---

Thailand


SMF_220872
Maenam Songkram Wannonivat


SMF_319587
Songkram River, Wannonivat, Sakon Nakhon


UF_507638
Songkhram River at confluence with Mao River. TH15-11. 17.70202, 104.25579


UF_507649
Songkhram River at confluence with Yam River. TH15-12. 17.70906, 104.07671


UF_507778
Un River at bridge approx. 3 km E of Ban Na Wha. TH16-32. 17.480, 104.129


UF_507786
Songkhram River near confluence with Un River at bridge N of Ban Si Songkhram. TH16-33. 17.634, 104.246


UF_507629
Songkhram River at Rt. 2390 bridge. TH15-10. 17.67602, 104.28566

UF_564757
Genbank Vouchers
MUMNH_UNI2204 (COI, 16S, 28S).
MUMNH_UNI0908 (COI, 16S, 28S).
MUMNH_UNI0903 (COI, 16S, 28S).
UF_507786 (ICH-00803) (COI, SRA).
UF_507786 (ICH-00803_AHE) (COI).
UF_507629 (2014-0651) (COI).