The Freshwater Mussels (Unionoida) of the World (and other less consequential bivalves)
FM(U)otW(aolcb) is the web version of the MUSSEL Project Database. Follow the links to browse the data or use the custom Google search field. Either way, you win!
This page reports the specimens in the MUSSELpdb and provides a map if geocodes are known. The taxonomic history reports the record of different names and combinations that have been applied to this species (and its synonyms) since 2007.
Search the database pages:
---
Unionoida | Unionoidea | Unionidae | Gonideinae | Rectidentini | Hyriopsis
species Hyriopsis delaportei (Crosse & Fischer, 1876): specimens
1 nominal species
Range: Mekong Basin in Cambodia.
Map of Georeferenced Specimens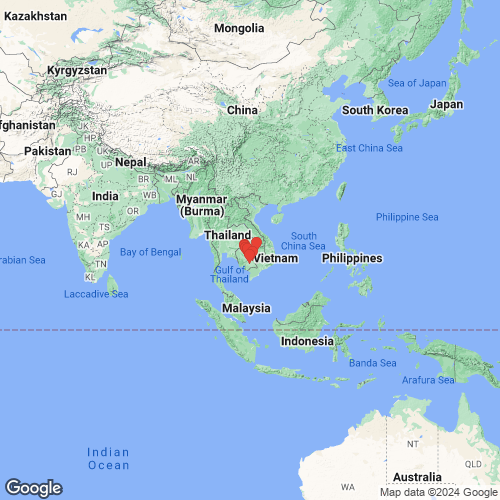 ---

Cambodia


INHS_32580
Tonle Sap Lake, near Porsat (=Pursat or Pouthisat), Cambodia


MNHN_MP_3924
Grand Lac, Cambodge


MNHN_MP_3926
Cambodge


UF_507446
Tonle Sap, 4.3 mile boat ride from fishing village (3.5 miles from Khum Ponley). CA16-13. 12.56070, 104.43972


UMMZ_108033
Cambodia


MNHN_MP_3929
Grand Lac, Cambodge


MNHN_MP_3964
Cambodge


MNHN_MP_3868
Grand lac


USNM_127205
Cambodia


MNHN_MP_3993
Srepock, B. Sen Klong, Cambodge, a l'est de Stung Treng


MNHN_IM-2000-1671
Cambodge, Province de Compong Soai


UF_507425
Mekong River, upstream of fishing village near the confluence of Tonle Sap River. CA16-10. 11.57207, 104.94050


ANSP_125570
rivers in Laos mountains, Siam


MNHN_MP_3913
Cambodge

---

unknown


MNHN_MP_3990
[no locality available - Asia]
Genbank Vouchers
MUMNH_UNI2682 (COI, 16S, 28S).
MUMNH_UNI2653 (COI, 16S, 28S).
MUMNH_UNI2628 (COI, 16S, 28S).
MUMNH_UNI2631 (COI, 16S, 28S).
UF_507425 (ICH-00567) (COI, SRA).
UF_507425 (ICH-00568) (COI).
UF_507446 (ICH-00623) (COI).
UF_507425 (ICH-00567_AHE) (COI).
UF_507425 (ICH-00566) (COI).
UF_507446 (ICH-00622) (COI).