Page last updated
Wed 22 Nov 2023
The Freshwater Mussels (Unionoida) of the World (and other less consequential bivalves)
FM(U)otW(aolcb) is the web version of the MUSSEL Project Database. Follow the links to browse the data or use the custom Google search field. Either way, you win!
This page reports the specimens in the MUSSELpdb and provides a map if geocodes are known. The taxonomic history reports the record of different names and combinations that have been applied to this species (and its synonyms) since 2007.
Search the database pages:
---
Bivalvia | Unionoida | Etherioidea | Mycetopodidae | Monocondylaeinae | Monocondylaea
species Monocondylaea parchappii (d'Orbigny, 1835): specimens
1 nominal species
Range: Paraná and adjacent coastal streams in Brazil, Uruguay, and Argentina.
Map of Georeferenced Specimens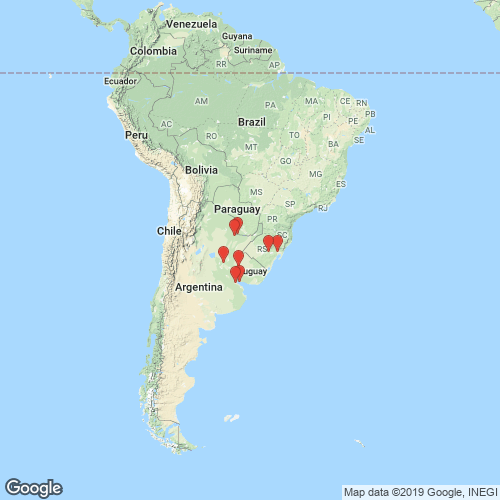 ---

Argentina


ANSP_324647
Laguna Toratay, Alto Verde, Santa Fe, Uruguay


DMNH_78647
Laguna Toratay, Alto Verde, Santa Fe, Uruguay


MNHN_MP_0271
Rio Paraná, Corrientes, Rep. Argentina


UMMZ_112013
Buenos Ayres, Argentina


SMF_183990
Argentinien; Rio Parana, Itati, Corrientes


ANSP_125639
Itaty, Prov. Corrientes, Argentina


BMNH_1854-9-4-29
Rio Parana, Provincia Corrientesnsi, republica Argentina.


BMNH_54-9-4-29-1-7
Rio Parana, provincia Corrientesnsi, republica Argentina.


ANSP_41825
Buenos Ayres

---

Brazil


CM_61.5845
Rio Jacuhy, Cachoeira, Rio Grande do Sul, Brazil


CM_61.11130
Lagoa da Volta, Rio Grande do Sul, Brazil


UMMZ_112011
Brazil


UMMZ_112012
Lagoa da Volta, Rio Grande do Sul, Brazil


CM_61.66
Sagonda [=Lagoa] Volta, Rio Grande do Sul, Brazil


BMNH_MP_325
Rio Grande do Sul, Brazil


MCZ_MP.110
Rio Grande do Sul, Brazil


USNM_125743
Rio Grande do Sul, Brazil


USNM_125742
Lagos da Volta, Rio Grande do Sul, Brazil


MCZ_MP.128
Rio Grande do Sul


CM_61.9273
Rio Jacuhy, Cachoeira, Rio Grande do Sul, Brazil


AMNH_35384
Brazil

---

Uruguay


UMMZ_112014
Colonia, Uruguay


UMMZ_112015
Rio Uruguay, Paysandu, Uruguay

---

unknown


UMMZ_23095
South America


BMNH_MP_342
[no locality available - South America]


USNM_86343
Paraná R., S.A.


ANSP_125641
South America


AMNH_30939
South America
Page updated: 11:37:58 Wed 22 Nov 2023