Page last updated
Mon 13 Mar 2023
The Freshwater Mussels (Unionoida) of the World (and other less consequential bivalves)
FM(U)otW(aolcb) is the web version of the MUSSEL Project Database. Follow the links to browse the data or use the custom Google search field. Either way, you win!
This page reports the specimens in the MUSSELpdb and provides a map if geocodes are known. The taxonomic history reports the record of different names and combinations that have been applied to this species (and its synonyms) since 2007.
Search the database pages:
---
Bivalvia | Veneroida | Cyrenoidea | Cyrenidae | Corbicula
species Corbicula fluminea (Müller, 1774): specimens
68 nominal species as synonyms
Range: Native to eastern Asia. Widely introduced.
Map of Georeferenced Specimens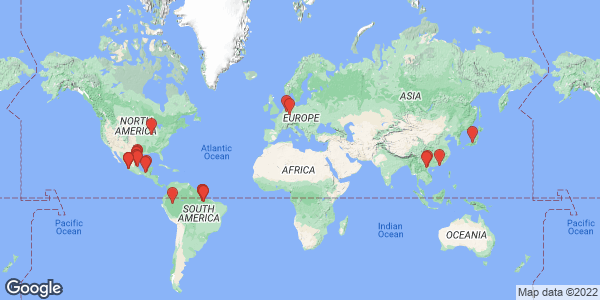 ---

Brazil


INHS_83135
main channel along left bank, ca. 10 km SW and across river from Senador Jose Porfirio


INHS_78837
off left bank of main channel in vicinity of campsite 5, ca. 6 km south of Porto do Moz


INHS_78872
off right bank, point between campsite 5 and Porto do Moz


INHS_79205
left bank ca. 5 km upstream from confluence with rio Xingu


INHS_79218
at mouth of rio Jarauçu (Aquiqui)


INHS_45934
Rio Xingu, ~7 km N Senador José Porfîrio, Pará, Brazil


INHS_79201
beach on right bank, campsite 5 and vicinity, ca. 3.5 km southeast of Porto do Moz


INHS_79230
main channel off right bank campsite 5, ca. 3.5-4 km south-southeast of Porto do Moz

---

China


MNHN_MP_4742
Hong Kong


MNHN_MP_4763
Chine


MNHN_MP_4801
Chine

---

Germany


INHS_25335
Rhine River (North Sea Dr.) near Rheinberg-Orsoy North Rhine- Westphalia, Germany


INHS_78819
Nidda River (Main River Dr.) Frankfurt; L3005 bridge, Darmstadt County, Hesse, Germany, 50.12371°, 8.61223°


INHS_807
Rhine River (north Sea r.) near Rheinberg- Orsoy, North Rhine- Westphalia, Germany

---

India


MNHN_MP_4799
Indes

---

Japan


MNHN_MP_4548
Osaka

INHS_52287 Japan

---

Jordan


MNHN_MP_4752
Jourdain


MNHN_MP_4793
Jourdain

---

Mexico


INHS_91097
Rio Usumacinta, Gulf of Mexico - Grijalva - Usumacinta, opposite mouth of Rio Chacamax, Tabasco, Mexico


INHS_89429
Rio Valles, Valles, San Luis Potosi, Mexico


INHS_89423
Rio Tempoal, Tempoal, Veracruz, Mexico


INHS_89426
Rio San Fernando, ca. 20 km NW San Fernando, Tamaulipas, Mexico


INHS_87600
Rio Ayuquila, Pacific - Armeria - Boca de Pascuales, NW El Grullo, Jalisco, Mexico


INHS_87599
Rio Ayuquila, Pacific - Armeria - Boca de Pascuales, N of El Corcovado, Jalisco, Mexico


INHS_89440
Rio Tampaón [22 km SSW of Ciudad Valles, 38 km S of Tamuin, 132 km WSW of Tampico], San Luis Potosi, Mexico


INHS_89428
Arroyo Sarnoso, 33 km E of Victoria, 275 km SW of Matamoros, Casas Municipality at Hwy. 70, Tamaulipas, Mexico


INHS_89434
Rio San Fernando, Cisneros Bridge, Tamaulipas, Mexico


INHS_89432
Rio Purificacion, 27-28 km NE of Victoria, 235 km SW of Matamoros, Presa Vicente Guerrero, Tamaulipas, Mexico


INHS_87598
Rio Tuxcacuesco, Pacific Ocean - Armeria - Ayuquilla - Ferreria, near Parque Las Piedras, Jalisco, Mexico

INHS_90939 Rio Tulija, Salto de Aqua, Chiapas, Mexico 17.55542, -92.33251

---

Peru


INHS_25735
Rio Marañon, 1 mi S Nauta, in large shallow oxbow lake S of southern braid of main channel, Loreto, Peru

---

Sri Lanka


MNHN_MP_4904
Ceylon

---

USA


ANSP_416332
Sangamon River, Lake of the Woods, Mahomet, Champaign Co., Illinois 40.2040° N, 88.3876° W

---

Vietnam


MNHN_MP_4747
Tonkin


MNHN_MP_4751
Tonkin


MNHN_MP_4760
Hanoï, Tonkin


MNHN_MP_4850
Tonkin: Dong-Song

---

unknown


MNHN_MP_4759
[no locality available]
Page updated: 09:32:02 Mon 13 Mar 2023