Page last updated
Thu 04 Apr 2019
The Freshwater Mussels (Unionoida) of the World (and other less consequential bivalves)
FM(U)otW(aolcb) is the web version of the MUSSEL Project Database. Follow the links to browse the data or use the custom Google search field. Either way, you win!
This page reports the specimens in the MUSSELpdb and provides a map if geocodes are known.
Search the database pages:
---
Bivalvia | Unionoida | Unionoidea | Unionidae | Unioninae | Unionini | Unio
species Unio tigridis Bourguignat, 1852: specimens
72 nominal species as synonyms.
Range: Syria to Iraq.
Map of Georeferenced Specimens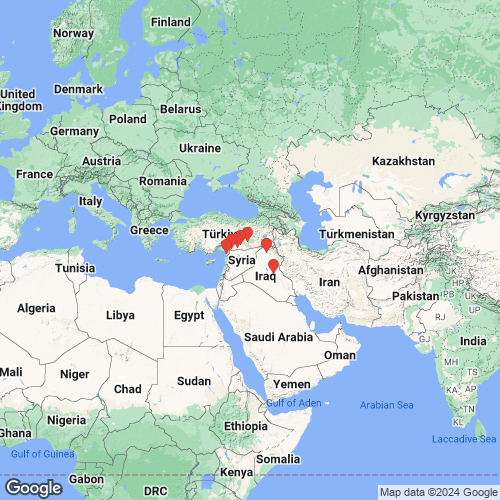 ---

Iraq


SMF_4513
A.d. Euphrat, Bagdad


MNHN_MP_0066
Bagdad


USNM_85230
River Tigris, Mosul, Persia


USNM_85231
Assyria


USNM_84706
River at Bagdad, Persia


USNM_84713
R. Tigris at Mosul, Persia


USNM_84714
R. Tigris at Bagdad, Persia

---

Israel


USNM_782613
Jordan R., at Gesher, Israel


UMMZ_130238
Elhoj River, Jaffa, Palestine

---

Syria


ANSP_125709
Orontes R.


USNM_84906
R. Orontes, Syria
Page updated: 11:14:14 Thu 04 Apr 2019