Page last updated
Wed 05 Jun 2019
The Freshwater Mussels (Unionoida) of the World (and other less consequential bivalves)
FM(U)otW(aolcb) is the web version of the MUSSEL Project Database. Follow the links to browse the data or use the custom Google search field. Either way, you win!
This page reports the specimens in the MUSSELpdb and provides a map if geocodes are known.
Search the database pages:
---
Bivalvia | Unionoida | Unionoidea | Unionidae | Ambleminae | Pleurobemini | Fusconaia
species Fusconaia flava (Rafinesque, 1820): specimens
20 nominal species as synonyms.
Range: Widespread in the Interior, Great Lakes and Nelson River basins, as well as the western Gulf Coastal Plain, North America. Introduced to the Atlantic Slope via the Erie Canal
Map of Georeferenced Specimens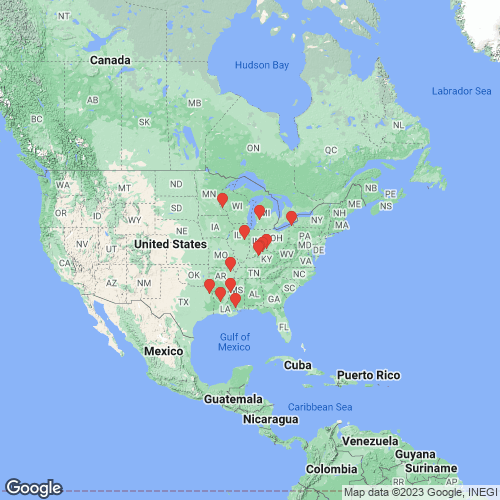 ---

USA


ANSP_20247
Riv. Kentucky


ANSP_416333
Lone Tree Creek, 5 mi S Gibson City, Champaign Co., Illinois 40.3691° N, 88.3803° W


USNM_272249
Cache R., Nemo, Craighead, Ark


USNM_84629
Louisville, KY


UMMZ_209194
Lake Pepin, Lake City, Minnesota


FMNH_22816
Cache River, at Nemo, Craighead Co., Arkansas


CM_61.4513
"Big Bend" Presque Isle Bay, Erie, Erie County, Pennsylvania


USNM_84556
Cincinnati, Ohio


ANSP_20230
small creeks in Kentucky
Page updated: 14:20:47 Wed 05 Jun 2019