Page last updated
Wed 06 Nov 2019
The Freshwater Mussels (Unionoida) of the World (and other less consequential bivalves)
FM(U)otW(aolcb) is the web version of the MUSSEL Project Database. Follow the links to browse the data or use the custom Google search field. Either way, you win!
This page reports the specimens in the MUSSELpdb and provides a map if geocodes are known.
Search the database pages:
---
Bivalvia | Unionoida | Unionoidea | Unionidae | Unioninae | Anodontini | Alasmidontina | Strophitus
species Strophitus undulatus (Say, 1817): specimens
33 nominal species as synonyms.
Range: Widespread in the Nelson, Interior, Great Lakes, Atlantic Slope basins, and Gulf Coastal Plain, North America.
Map of Georeferenced Specimens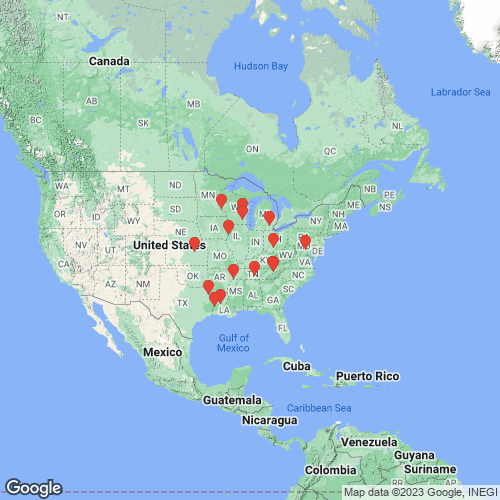 ---

USA


UMMZ_209137
L. Pepin, Lake City, Wisc.


USNM_86682
Alexandria, La


USNM_86685
Horn Lake Creek, Tenn


USNM_86488
Chillicothe, Ohio


MCZ_50296
Michigan


MCZ_150656
Potomac River, Virginia


MCZ_16690
Duck River, Shelbyville, Rockford, Co., Tennessee


INHS_82463
Oconomowoc Lake, Waukesha Co., Wisconsin


USNM_86514
Little Beaver Cr., Ohio


MNHN_MPL_0002
de Virginie


UMMZ_209201
Lake Winnebago, Wisconsin


USNM_86603
Lit. Ark. R., at Santa Fe...


MNHN_MPL_0001
des Etats Unis. "Habite la rivière de Potowmac, en Virginie. Mon cabinet."


UMMZ_113533
Edwards River, Illinois


UMMZ_113534
Lyons Creek, Woodbine, Dickinson, Kansas
Page updated: 11:02:00 Wed 06 Nov 2019