Page last updated
Thu 01 Jun 2023
The Freshwater Mussels (Unionoida) of the World (and other less consequential bivalves)
FM(U)otW(aolcb) is the web version of the MUSSEL Project Database. Follow the links to browse the data or use the custom Google search field. Either way, you win!
This page documents data for R.I. Johnson (1998), such as genera and species attributed to that publication (including known misspellings, misidentifications, and other unavailable names) as well as taxonomic opinions, if available. Taxonomic opinions refer to uses of genera and species as valid and invalid in that work.
Search the database pages:
---
Publication information
Johnson, R.I. 1998. A new mussel, Potamilus metnecktayi (Bivalvia: Unionidae) from the Rio Grande system, Mexico and Texas with notes on Mexican Disconaias. Occasional Papers on Mollusks 5(76): 427-455.
Click here for online access.
Attributed Species Names
Unio heermanii B.H. Wright, 1888
'Lea' of Authors.
B.H. Wright, 1888, Check List N. Amer. Unionidae etc.: [3].
Singley, 1893, Geol. Surv. Texas (1892): 322.
R.I. Johnson, 1998, Occ. Pap. Moll. 5(76): 448.
R.I. Johnson, 1999, Occ. Pap. Moll. 6(77): 27.
(error for Unio heermannii Lea, 1861)
Potamilus metnecktayi R.I. Johnson, 1998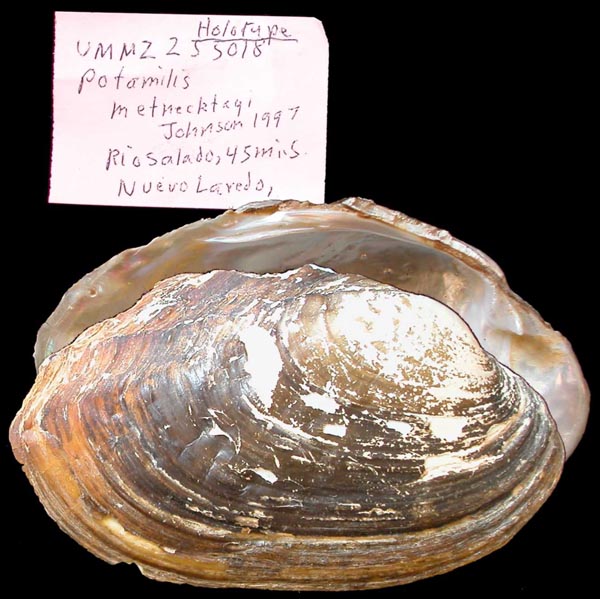 R.I. Johnson, 1998, Occ. Pap. Moll. 5(76): 429, pl. 22, figs. 1-2.
Type(s): HOLOTYPE (ORIG. DESIG.) UMMZ_255018, Rio Salado, 45 mi S Nuevo Laredo, Tamaulipas, Mexico.
Taxonomic Opinions
Actinonaias walkeri Baker, 1922
Cyrtonaias tampicoensis (Lea, 1838)
+ Unio berlandierii Lea, 1857
+ Unio saladoensis Lea, 1860
+ Unio heermannii Lea, 1861
Disconaias disca (Lea, 1838)
+ Unio panacoensis Philippi, 1843
+ Unio mexicanus Sowerby, 1867
+ Unio lapidosus Kobelt, 1893
+ Unio (Lampsilis) discus var. connectens Martens, 1900
+ Lampsilis fimbriata Frierson, 1907
+ Lampsilis (Proptera) salinasensis Dall, 1908
Lampsilis explicata (Morelet, 1849)
+ Unio explicatus Fischer & Crosse, 1894
+ Lampsilis (Proptera) lividus Simpson, 1900
Potamilus metnecktayi new species
Potamilus purpurata (Lamarck, 1819)
+ Unio coloradoensis Lea, 1856
Page updated: 09:17:16 Thu 01 Jun 2023