Page last updated
Sun 01 Oct 2023
The Freshwater Mussels (Unionoida) of the World (and other less consequential bivalves)
FM(U)otW(aolcb) is the web version of the MUSSEL Project Database. Follow the links to browse the data or use the custom Google search field. Either way, you win!
This page documents data for Küster (1852), such as genera and species attributed to that publication (including known misspellings, misidentifications, and other unavailable names) as well as taxonomic opinions, if available. Taxonomic opinions refer to uses of genera and species as valid and invalid in that work.
Search the database pages:
---
Publication information
Küster, H.C. 1852. Die Flussperlmuscheln (Unio et Hyria). Systematisches Conchylien-Cabinet von Martini und Chemnitz Fortgesetzt von Hofrath Dr. G. v. Schubert und Professor Dr. J.A. Wagner 9(2): 41-64, pls. 7-15, .
Click here for online access.
Attributed Species Names
Unio ovatus Deshayes, 1839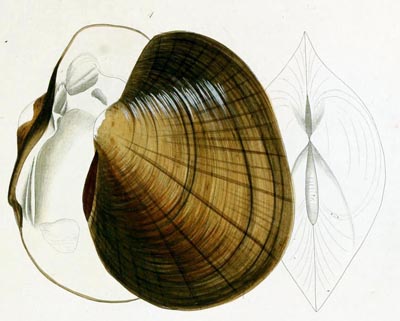 'Say' of Authors.
Deshayes, 1839, Hist. Natur. Anim. sans Vert. 6: 669.
Küster, 1852, Conchyl. Cab. 9(2): 55, pl. 12, fig. 1. [in part]
(misidentified reference to Unio ovatus Say, 1817)
Unio metaneurus Herrmannsen, 1849
'Rafinesque' of Authors.
Herrmannsen, 1849, Ind. Gener. Malacol. 2: 571.
Küster, 1852, Conchyl. Cab. 9(2): 50.
Conrad, 1853, Proc. Acad. Nat. Sci. 6: 252.
Thiele, 1934, Handb. Syst. Weichtierk. 3: 826 [1260] [as 'Quadrula (Theliderma) metaneura'].
(error for Obliquaria (Quadrula) metanevra Rafinesque, 1820)
Unio triangularis Küster, 1852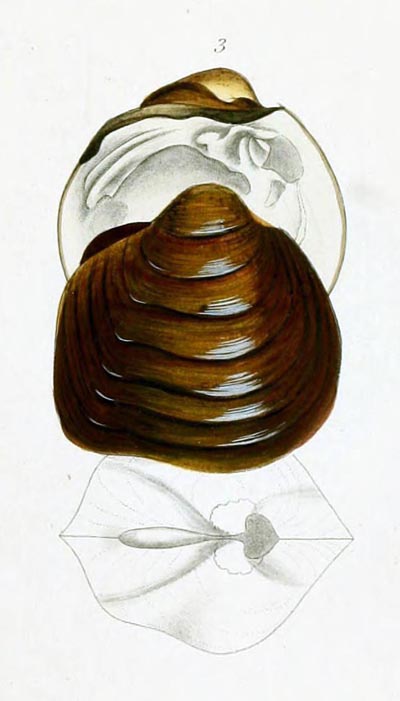 Küster, 1852, Conchyl. Cab. 9(2): 56, pl. 12, fig. 3.
(misidentified reference to Unio triangularis Barnes, 1823)
Unio decisus Küster, 1852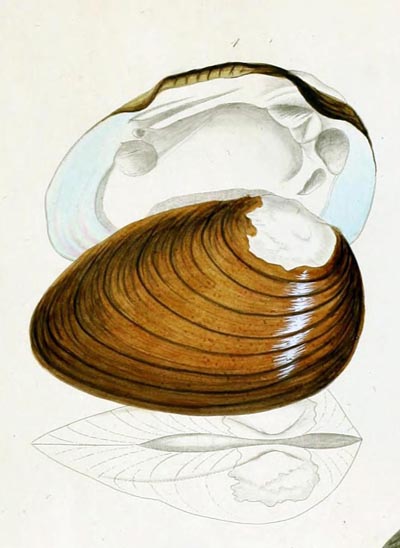 'Lea' Küster, 1852, Conchyl. Cab. 9(2): 41, pl. 8, fig. 1. [in part]
(misidentified reference to Unio decisus Lea, 1831)
Unio sowerbyanus Küster, 1852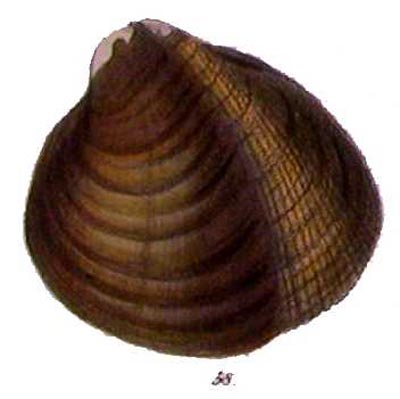 'Lea' of Authors.
Küster, 1852, Conchyl. Cab. 9(2): 62.
Agassiz, 1852, Arch. Naturg. 18(1): 43.
Reeve, 1864, Conch. Icon. 16: pl. 14, sp. 58.
Simpson, 1900, Proc. U.S. Nat. Mus. 22: 520.
Simpson, 1914, Descr. Cat. Naiades: 17.
Frierson, 1927, Check List N. Amer. Naiades: 94.
Haas, 1969, Das Tierreich 88: 483.
Burch, 1975, Freshw. Unio. North Amer.: 173.
R.I. Johnson, 1978, Bull. MCZ 148: 280.
Parmalee & Bogan, 1998, The Freshwater Mussels of Tennessee: 91.
(error for Unio sowerbianus Lea, 1834)
Unio decisus Küster, 1852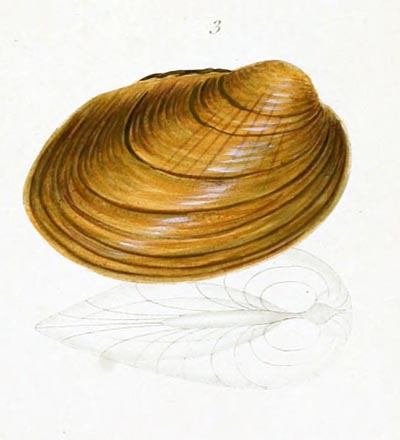 'Lea' Küster, 1852, Conchyl. Cab. 9(2): 41, pl. 7, fig. 3. [in part]
(reference to Unio decisus Lea, 1831)
Unio cordatus Küster, 1852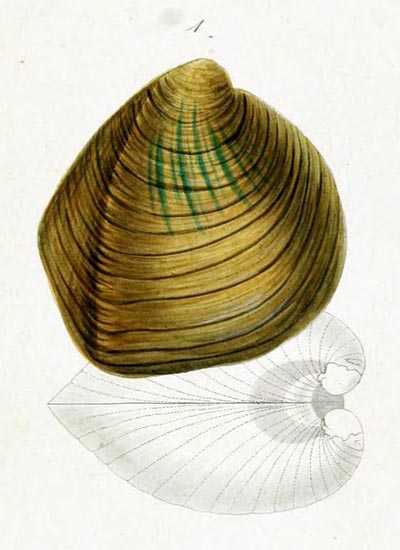 'Rafinesque' Küster, 1852, Conchyl. Cab. 9(2): 57, pl. 13, fig. 1.
(misidentified reference to Obovaria cordata Rafinesque, 1820)
Taxonomic Opinions
Unio bullatus Rafinesque
+ Unio bullatus Conrad, 1838
Unio catillus Conrad
Unio circulus Lea
Unio coccineus Hildreth
Unio cordatus Rafinesque
+ Unio cordatus Conrad, 1836
Unio costatus Rafinesque
+ Unio undulatus Barnes, 1823
+ Unio costatus Conrad, 1836
Unio decisus Lea
+ Unio taitianus Lea, 1834
Unio declivis Say
+ Unio geometricus Lea, 1834
+ Unio declivis Conrad, 1836
Unio ellipsis Lea
Unio flavus Rafinesque
+ Unio rubiginosus Lea, 1829
+ Unio flavus Conrad, 1837
Unio flexuosus Rafinesque
+ Unio foliatus Hildreth, 1828
+ Unio flexuosus Conrad, 1835
Unio lapillus Say
+ Unio fabalis Lea, 1831
Unio metaneurus [sic] Rafinesque
+ Unio nodosus Barnes, 1823
+ Unio metaneurus Herrmannsen, 1849
Unio mortoni Conrad
Unio mytiloides Rafinesque
+ Obliquaria rubra Rafinesque, 1820
+ Unio pyramidatus Lea, 1831
+ Unio mytiloides Conrad, 1836
Unio obliquus Lamarck
+ Unio ebenus Lea, 1831
+ Unio obliqua Ferussac, 1835
Unio ovatus Say
Unio personatus Say
+ Unio capillaris Lea, 1834
Unio phillipsii Conrad
Unio politus Say
+ Unio subrotundus Lea, 1831
Unio reflexus Rafinesque
+ Unio cornutus Barnes, 1823
Unio retusus Lamarck
+ Obovaria torsa Rafinesque, 1820
Unio splendidus Lea
Unio triangularis
+ Unio cuneatus Swainson, 1823
Unio tuberculatus Rafinesque
+ Unio verrucosus Barnes, 1823
+ Unio tuberculosus Humboldt & Bonpland, 1827
Unio zigzag Lea
Page updated: 13:03:31 Sun 01 Oct 2023