The Freshwater Mussels (Unionoida) of the World (and other less consequential bivalves)
FM(U)otW(aolcb) is the web version of the MUSSEL Project Database. Follow the links to browse the data or use the custom Google search field. Either way, you win!
This page reports the specimens in the MUSSELpdb and provides a map if geocodes are known. The taxonomic history reports the record of different names and combinations that have been applied to this species (and its synonyms) since 2007.
Search the database pages:
---
Unionoida | Unionoidea | Unionidae | Ambleminae | Lampsilini | Lampsilis
species Lampsilis cardium Rafinesque, 1820: specimens
20 nominal species as synonyms
Range: Widespread in the Interior, Nelson, and Great Lakes basins, North America. Introduced to the Potomac River on the Atlantic Slope.
Map of Georeferenced Specimens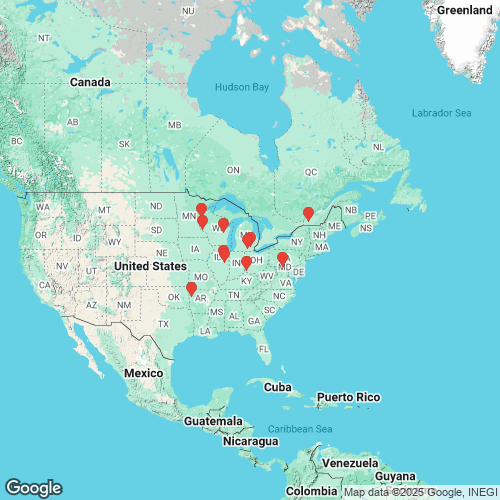 ---

Canada


USNM_84503
St. Helens Id., Montreal, Canada

---

USA


UMMZ_209195
Lake Pepin, Lake City, Minnesota


USNM_29958
Devil's Lake, Lenawee Co., Mich.


USNM_84509
Cincinnati, Ohio


CM_31.6994
Potomac River, Hancock, Washington Co., Maryland


UMMZ_209212
L. Winnebago, nr. Oshkosh, Wis.


UMMZ_304654
Mackinaw River, 1.5 mi SE Colfax, Co. Rd. 3600E Mclean County, Illinois, 40.5543°, -88.57409°


USNM_84866
Cincinnati, Ohio


UA_21020
Mackinaw River, 1.5 mi SE Colfax, Co. Rd. 3600E Mclean County, Illinois, 40.5543°, -88.57409°


ANSP_416325
Sangamon River, Lake of the Woods, Mahomet, Champaign Co., Illinois 40.2040° N, 88.3876° W

---

unknown


ANSP_20210
[no locality available - North America]
Genbank Vouchers
BivAToL-421 (COI, 16S, 28S, 18S, H3).
UMMZ_304654 (COI, 16S, 28S, SRA).
MCZ_DNA100159 (COI, 28S, 18S).
UMMZ_265707 (COI, 28S) Huron River, MI.
BivATOL_421.5a (SRA).
NRI8496.1 (COI).
NEFC_B19-224 (mtGenome).
NRI8556.1a (COI).
299TS (ND1).
NEFC_B19-225 (mtGenome).