Page last updated
Mon 13 Mar 2023
The Freshwater Mussels (Unionoida) of the World (and other less consequential bivalves)
FM(U)otW(aolcb) is the web version of the MUSSEL Project Database. Follow the links to browse the data or use the custom Google search field. Either way, you win!
This page reports the specimens in the MUSSELpdb and provides a map if geocodes are known. The taxonomic history reports the record of different names and combinations that have been applied to this species (and its synonyms) since 2007.
Search the database pages:
---
Unionoida | Unionoidea | Unionidae | Ambleminae | Pleurobemini | Fusconaia
species Fusconaia mitchelli (Simpson in Dall, 1896): specimens
3 nominal species as synonyms
Taxonomic History (since 2007)

Quincuncina mitchelli — Graf & Cummings (2007), Cummings & Graf (2010), ITIS (2012)
Quadrula mitchelli — Bogan (2010), Haag (2012)
Fusconaia mitchelli — IUCN (2014), Pfeiffer et al. (2016), Williams et al. (2017), Inoue et al. (2018), Pieri et al. (2018), Keogh & Simons (2019), Smith et al. (2020), Graf & Cummings (2021), FMCS (2021), Czaja et al. (2023)
Range: Guadalupe basin, western Gulf Coastal Plain, Texas, USA.
Map of Georeferenced Specimens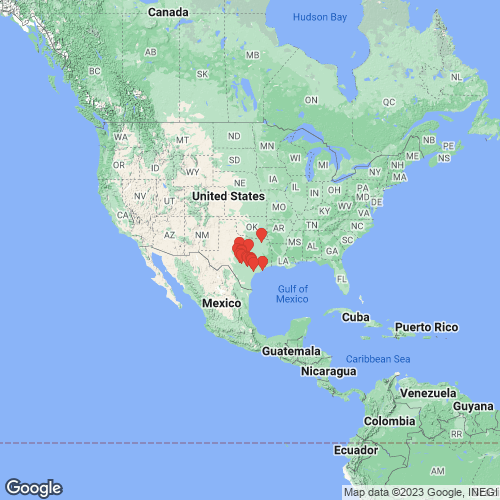 ---

USA


USNM_128364
Guadalupe R., Victoria Co., Texas


ANSP_185974
Guadalupe R., Seguin, Guadalupe Co., Texas


ANSP_332304
Guadalupe River, 4 mi above N. Braunfels, Comal Co., Texas


ANSP_361747
Llano River (Colorado River Dr.), islands W of St. Hy. 2768 bridge, at Castell, Mason Co., Texas


ANSP_48064
Brazos River, Texas


ANSP_66453
Guadalupe River, Victoria Co., Texas


ANSP_113945
San Saba River, Menardville, Menard Co., Texas


USNM_161005
Guadalupe River, Kerr Co., Texas


USNM_251910
Ingram, Kerr Co., Texas


USNM_363911
Llano R., Mason Co., Tex.


USNM_126555
Victoria Co., Texas


USNM_126877
Guadalupe River, Texas


USNM_127041
Guadalupe River, New Braunfels, Texas


USNM_127411
Guadalupe River, Texas


USNM_464619
Guadalupe River, near Kerrville, Texas


USNM_464620
Guadalupe River, near Kerrville, Texas


USNM_464626
Leon R., Gatesville, Coryall Co., Texas


USNM_464736
San Saba R., Menard Co., Texas


USNM_125794
Guadalupe River, New Braunfels, Texas


USNM_131644
Sulpher Springs, Texas


USNM_131645
Santa Anna, Texas


USNM_152984
Texas


USNM_251917
Guadalupe River, near Kerrville, Texas


FMNH_89787
[no locality available - Texas]
Page updated: 09:32:56 Mon 13 Mar 2023