nominal species Hyria avicularis Lamarck, 1819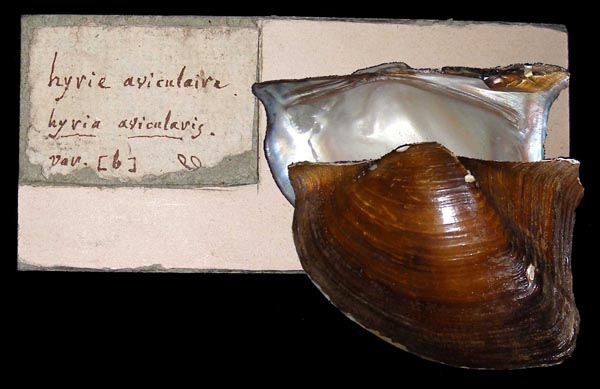 Lamarck, 1819, Hist. Natur. Anim. sans Vert. 6: 82, sp. 1, var. [a]. [in part]
Type(s): UNKNOWN MNHN_MPL_0019, La variété [b] vient du cabinet de Lisbonne. Je la crois du Brésil . The [b] variety comes from the cabinet of Lisbon. Brazil I think].
Taxonomic Opinions
+ Prisodon obliquus (Schumacher, 1817) — (Simone, 2006)
+ Paxyodon syrmathophorus [sic] Meuschen, 1781 — (Ramírez et al., 2003)
+ Prisodon obliquus Schumacher, 1817 — (Haas, 1969)
+ Prisodon obliquus Schumacher — (Haas, 1916)
+ Prisodon (s.s.) obliquus Schumacher, 1817 — (Simpson, 1914)
+ Prisodon (s.s.) obliquus Schumacher, 1817 — (Simpson, 1900)
= Hyria avicularis Lam. — (Ihering, 1890)
+ Margaron (Triquetra) subviridis (Klein) — (Lea, 1870)
= Hyria avicularis Lamarck, 1819 — (Sowerby, 1869)
= Hyria avicularis Lamarck — (Hupé, 1857)
+ Hyria syrmatophora Gronov — (Küster, 1856)
+ Triquetra obliqua (Sch.) — (Mörch, 1853)
+ Margaron (Triquetra) subviridis (Klein) — (Lea, 1852)
= Hyria avicularis Lam. — (Hanley, 1843)
= Hyria avicularis Lamarck, 1819 — (Swainson, 1840)
+ Margarita (Unio) syrmatophorus (Gronovius, 1781) — (Lea, 1836)
= Hyria avicularis — (Jay, 1835)
+ Hyria syrmatophora Gronovius — (Lea, 1834)
= Unio avicularis Lamk. — (Deshayes, 1830)
= Hyria avicularis Lamarck, 1819 — (Wood, 1828)
+ Diplodon caudatus (Spix & Wagner, 1827) — (Wagner, 1827)
- NO OPINION — (Gray, 1825)
= Hyria avicularis Lamarck — (Children, 1823)
= Hyria avicularis (Lamarck, 1819) — (Lamarck, 1819)