Page last updated
Thu 05 May 2022
The Freshwater Mussels (Unionoida) of the World (and other less consequential bivalves)
FM(U)otW(aolcb) is the web version of the MUSSEL Project Database. Follow the links to browse the data or use the custom Google search field. Either way, you win!
This page reports the specimens in the MUSSELpdb and provides a map if geocodes are known. The taxonomic history reports the record of different names and combinations that have been applied to this species (and its synonyms) since 2007.
Search the database pages:
---
Unionoida | Unionoidea | Unionidae | Ambleminae | Lampsilini | Cyrtonaias
species Cyrtonaias tampicoensis (Lea, 1838): specimens
11 nominal species as synonyms
Taxonomic History (since 2007)

Cyrtonaias tampicoensis — Graf & Cummings (2007), Chapman et al. (2008), Chapman et al. (2008), Campbell et al. (2008), ..., Smith et al. (2020), Tiemann et al. (2020), FMCS (2021), Graf & Cummings (2021)
Cyrtonaias saladoensis — Graf & Cummings (2007), Bogan (2010), Cummings & Graf (2010)
Actinonaias ligamentina ligamentina — Watters et al. (2009)
Cyrtonaias tampicoensis tampicoensis — ITIS (2012)
Range: Southern Texas to Honduras.
Map of Georeferenced Specimens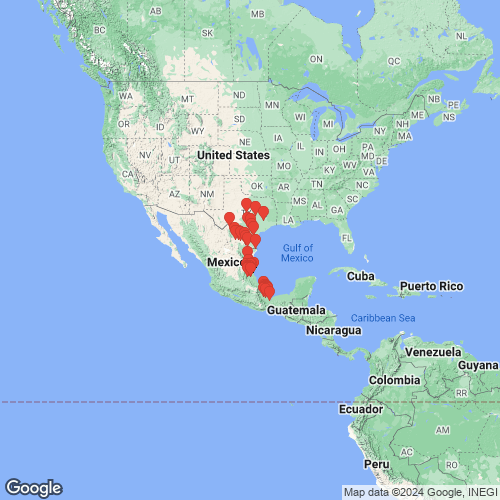 ---

Honduras


UMMZ_121213
Honduras. Dubious record.

---

Mexico


SMF_12416
Rio Casas Viejas, 25 m n.v. Valles, Mexiko


BMNH_1874-12-11-2
Tampico and Tecamate, Mexico


SMF_12418
Tampico, Mexico


BMNH_1907-10-28-268
Mexico


NCSM_MFM_19084
Rio Jaltepec, Jesus Carranza, Veracruz, Mexico


INHS_21707
Rio Casas Viejas, N of Valles, San Luis Potosi, Mexico


INHS_21708
Rio Casas Viejas, N of Valles, San Luis Potosi, Mexico


INHS_21709
Rio Casas Viejas, N of Valles, San Luis Potosi, Mexico


FMNH_11642
Rio Papaloapan, El Hule, Veracruz, Mexico


FMNH_67943
Rio Casas Viejas, between Valles and Pujol, Mexico


ANSP_129940
Tecomate River, near Tlacotalpan, Mexico


AMS_126904
Mexico


MNHN_MP_1298
Rio Cosamaloapan, Vera Cruz, Mexique


USNM_1282378-79
Veracruz, Rio San Juan at Rt. Mex. 25 ca. 20.5 roadmiles S of Santiago Tuxtla (junction of Rt. Mex. 25 and Rt. Mex. 180), and ca. 16.2 roadmiles from junction of Rt. Mex. 25 and Rt. Mex. 145


USNM_1282336
Veracruz, Rio San Juan at Rt. Mex. 25 ca. 20.5 roadmiles S of Santiago Tuxtla (junction of Rt. Mex. 25 and Rt. Mex. 180), and ca. 16.2 roadmiles from junction of Rt. Mex. 25 and Rt. Mex. 145


AMS_10232
Rio Guayalejo, 19 mi ENE Ciudad Monte, Tamaulipas, Mexico


BMNH_1964143
Mexico


CM_61.2007
Mexico


USNM_1282337
Veracruz, Rio Papaloapan off Rt. Mex. 175 in Cosamaloapan


USNM_1282338
Veracruz, Rio Papaloapan off road from Ciudad Aleman to Tuxtepec; ca. 0.5 roadmiles by dirt road to river; dirt road entrance to Aleman-Tuxtepec road is ca. 2.4 roadmiles W of divergence of roads to Ciudad Aleman and Cosamaloapan


AMS_102113
Rio Saldado, Anahuac, Nueva Leon, Mexico


AMS_102100
canal, 20.5 mi WNW Anahuac, Nueva Leon, Mexico


CM_61.766
Tampico, Mexico


INHS_21710
Rio Panuco, Pujal, San Luis Potosi, Mexico


USNM_122379
Matamoras, Mexico


AMNH_29220
Tamaulipas


USNM_251830
Sabinas River, Mexico


AMNH_31034
Mexico


AMNH_29201
Tampico River


USNM_1282339
Veracruz, Rio Papaloapan off Rt. Mex. 175 ca. 7.8 roadmiles S of the town square of Tlacotalpan


USNM_1282327-28
Mexico: Coahuila. Rio Salado de Nadadores, 0.5 mi S Progresso on road to HW 57 [distance from HW 57 is 14.6 mi]


INHS_89422
Rio Tempoal, Tempoal, Veracruz, Mexico


INHS_31738
100 km W Ciudad Acuna, 0.5 to 10 km E 102nd Meridian, Coahuila, Mexico


USNM_1282340
Veracruz, Rio Tesechoacan at Tesechoacan, ca. 0.5 miles N of bridge of Rt. Mex. 145 (ca. 9.3 roadmiles W of junction of Rt. Mex. 145 and Rt. Mex. 25)


OSUM_22682
Rio Grande at Falcon Reservoir, Tamaulipas, Mexico


OSUM_28272
"River Tampico, Mexico"


OSUM_46821
Rio Tempoal, [off Mexican Route 105, 50 mi. SW of Tampico]


OSUM_46822
Rio Panuco [25 mi. WSW of Tampico]


BMNH_MP_423
Rio Nopalapa, Mexico


USNM_1282329-30
San Luis Potosi, Rio Moctezuma at Tanquian de Escobedo


NCSM_MFM_1358
Mexico


USNM_1282331-35
Tamaulipas, Rio Guayalejo at Rt. Mex. 80 near Mexcoltzin. ca. 17.9 roadmiles E of Ciudad Mante (measured from circle in southern Mante where the Tampico, Mante, and Valles roads diverge)


UF_215326
river, 14 km E Xilitla, San Luis Potosi, Mexico, 21° 26' 13" N, 98° 56' 00" W


INHS_89438
Rio Tampaón [22 km SSW of Ciudad Valles, 38 km S of Tamuin, 132 km WSW of Tampico], San Luis Potosi, Mexico


UMMZ_34890
Rio San Juan, nr Haciendo de Cuatotolapam, Mexico


INHS_89442
Rio Pánuco, 18 km WSW of Panuco, 55 km SW of Tampico [Oviedo], Tamaulipas, Mexico


USNM_84843
Tampico, Mexico


INHS_89430
Rio Purificacion, 27-28 km NE of Victoria, 235 km SW of Matamoros, Presa Vicente Guerrero, Tamaulipas, Mexico


UMMZ_31844
Rio San Juan, Mexico


NCSM_5812
Rio Tamesi, Hwy. 80, @16 km W Magiscatzin, Tamaulipas, Mexico


NCSM_5806
El Tempoal, El Higo, Veracruz, Mexico


USNM_1282341-42
Veracruz, Rio Tempoal (or Rio Calabazo) at Rt. Mex. 105 between Tempoal and Platon Sanchez. N21°25'00" W98°23'30" 8 Feb 82


USNM_85338
Tecomate River, near Tlacotalpan, [Vera Cruz State], Mexico.


USNM_251829
Camargo, Tamaulipas, Mexico


ZMB_MP_0479
Tampico


ZMB_MP_0470
N.W. Mexico


USNM_84427
Matamoras, Mexico


SMF_12419
Veracruz, Mexico

UTEP_9285 Arroyo Los Salado at Mexico Highway 2, 24.0 miles S of junction with road to San Ignacio

UTEP_4858 Rio Salado at low water bridge in W part of Anahuac, ca. 1/8 miles W of new, high bridge on highway to Lampazos

UTEP_4852 Rio Salado, 18.3 miles by road (speedometer) NW of junction of Anahuac Road with Mexico Highway 85 at La Gloria or 14 miles SE of village of Anahuac

UTEP_4853 Rio Salado, 8 miles (directly) SE of Anahuac, where Road from Anahuac-La Gloria Road to Ejido Nuevo Anahuac crosses road

type_locality_mp_007 Rio Salado, New Leon, Mexico

UF_270345 Rio Salado, New Leon, Mexico

UTEP_4842 Rio Salado, ca. 0.5 miles E of Presa (= Dam) Don Martin at vado (ford) to small village on south bank

UTEP_4837 Rio Salado, ca. 0.5 miles E of Presa Don Martin at Vado to small village on S bank

UTEP_15127 Rio San Fernando (= Rio Conchos), in town of San Fernando, on Mexico Highway 101/180

UTEP_4824 Rio San Juan in north part of General Bravo, ca. 6 village blocks north and 1/8 miles W of junction of Mexico Highway 40 and road (paved) to Aldamas and Doctor Coss

MCZ_319586 Rio San Juan, Mexico

UMMZ_79635 Rio de San Juan, Monterey, Mexico

UTEP_4846 Salado River, 18.3 miles NW (by road) NW of junction of Anahuac Road with Mexico Highway 85 at La Gloria (= 14 miles SE of village of Analhuac), S side of road

UTEP_4861 San Juan River at old, collapsed bridge in west part of village of Camargo, from bank sediments on west side of river

ANSP_129441 Tecomate River, near Tlacotalpan, [Vera Cruz State], Mexico.

CHAS_25161 Valles River, between Valles and Pujal, Ranch of G.P. Willis, San Luis Potosi, Mexico

UTEP_4829 bank sediments of Rio San Juan, ca. 1.5 miles NE of 1674 China on N side of Mexico Highway 40, immediately NE of customs station and immediately below low water dam in Rio San Juan

UTEP_4835 irrigation canal 0.5 miles E of E side of village of Don Martin on N side of Rio Salado. below Presa Don Martin

UTEP_4832 low water bridge over Rio Sabinas at S edge of Sabinas on (Business) Highway #57

---

USA


USNM_83932
Medina R., Texas


USNM_524061
Rio Grande Terrace, at Romina, Zapata Co., Texas

UTEP_6958 0.8 mi NNE of mouth of Hackberry Draw, 0.95 mi NE of abandoned bridge over Pecos River

UTEP_2523 6 miles NW Del Rio, Rio Grande at Val Verde Estates

FMNH_346247 Amistad Reservoir, Val Verde Co., Texas

NPL_14499 Amistad Reservoir, Val Verde Co., Texas

UTEP_32247 E bank of Pecos River, 3 mi. SW of Grandfalls, on N side of TX hwy 18

FMNH_67970 Fort Brown, Brownsville, Texas

MCZ_28820 Fort Brown, Brownsville, Texas

UMMZ_79621 Fort Brown, Brownsville, Texas

USNM_273748 Fort Brown, Brownsville, Texas

UTEP_5900 Gravels of Pierce crossing of Pecos River, W of river and SE of road

UTEP_3589 N and S of Malaga Bend Road, on W side of Pecos River bridge at Pierce Crossing

UTEP_6969 Pecos River at Harroun Crossing; 1.75 miles NE of Malaga

UTEP_7084 Pecos River at Pierce Canyon Crossing

UTEP_15060 Pecos River below McMillan Dam

UTEP_8488 Pecos River below McMillan Dam

UTEP_3612 Pecos River crossing immediately below Fishing Rock

UTEP_3597 Pecos River, 200 feet W of Harroun Crossing Bridge, along road cut

UTEP_3610 Pecos River, N side, upper river gravel terrace opposite Fishing Rock

UTEP_3407 Rio Felix, at top of N bank

UF_438799 Rio Grande (site 1), 9.7 mi NNW of Laredo, TX

UTEP_3391 Rio Grande River, ca. 1/4 mi. W of hydroelectric plant at end of FM Rd 1907, and ca. 1 mi. SW of Eagle Pass Airport

UTEP_4664 Rio Grande at Chapeno gauging station, around islands, ca. 1.8 mi downstream, SE, from Falcon Dam powerhouse

UTEP_4866 Rio Grande at Chapeno gauging station, around islands, ca. 1.8 mi downstream, SE, from Falcon Dam powerhouse

UTEP_4694 Rio Grande at Roma, 0.35 mi. NW of International Bridge, on east side of island (road leads from north part of Roma, down to locality)

MCZ_52408 Rio Grande del Norte, Mercedes, Hidalgo Co., Texas

UMMZ_130066 Rio Grande del Norte, Mercedes, Hidalgo Co., Texas

UTEP_4690 Rio Grande del Norte, Mercedes, Hidalgo Co., Texas

UTEP_4684 Rio Grande, 6 mi W Del Rio, 1.5 mi W of Capitol Aggregates Gravel Plant

UTEP_4871 Rio Grande, immediately west of campround below Falcon Dam

---

unknown


ZMB_MP_0480
[no locality available - Central America]
Page updated: 08:15:23 Thu 05 May 2022