Page last updated
Wed 31 May 2023
The Freshwater Mussels (Unionoida) of the World (and other less consequential bivalves)
FM(U)otW(aolcb) is the web version of the MUSSEL Project Database. Follow the links to browse the data or use the custom Google search field. Either way, you win!
This page reports the specimens in the MUSSELpdb and provides a map if geocodes are known. The taxonomic history reports the record of different names and combinations that have been applied to this species (and its synonyms) since 2007.
Search the database pages:
---
Unionoida | Unionoidea | Unionidae | Unioninae | Unionini | Schistodesmus
species Schistodesmus lampreyanus (Baird & Adams, 1867): specimens
2 nominal species as synonyms
Taxonomic History (since 2007)

Schistodesmus lampreyanus — Graf & Cummings (2007), Zhou et al. (2007), Bogan (2010), IUCN (2011), ..., Jeratthitikul et al. (2022), Pavan-Kumar et al. (2022), Dai et al. (2023), Bogan et al. (2023)
Lamprotula gottschei — He et al. (2014)
Schistodesmus sp. — Froufe et al. (2019), Guerra et al. (2019), Zieritz et al. (2021), Wu et al. (2022)
Range: Yangtze and Huang He (Yellow) rivers, China.
Map of Georeferenced Specimens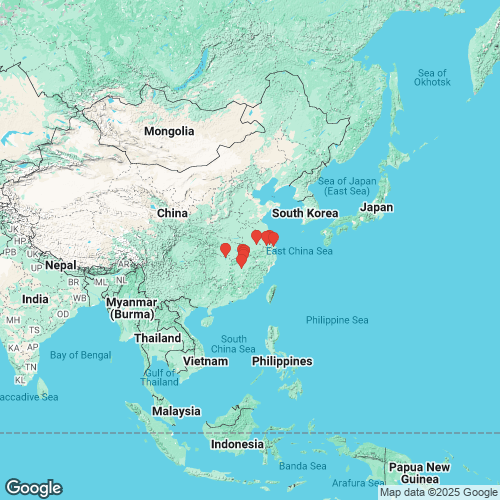 ---

China


BMNH_67-5-13-16
Shanghai, China


UMMZ_51786
Niho fluss, Modderriver, China


USNM_472406
China


INHS_20154
Tai Hu Lake, Dong Shan, Guang Ming, Wu Xian, Jiangsu, China


INHS_24800
Xie He Jiang River, Wucheng, Xie, Jiangxi, China


MNHN_MP_3790
Chine


MNHN_MP_3791
Lac Payon, Chine


MNHN_MP_3792
Chine Centrale


ANSP_165020
Soochow, China


MNHN_MP_3794
Nord de la Chine


MNHN_MP_3797
Lacs Poyan, Chine


MNHN_MP_3798
du Lacs Po yang, Chine


MNHN_MP_3804
Chine Centrale


UMMZ_110099
Lake Po-ian, interior of China


UMMZ_110100
China


UMMZ_110101
canal at Wau, 100 mi upriver from Nanking, China


UMMZ_110103
Shanghai, China


ANSP_125564
China


USNM_126963
China


USNM_84060
China


MNHN_MP_3809
Lac Poyan


MNHN_MP_3810
Kiangsi, Central Fleuve, Chine


BMNH_20020548
Shores of Poyang Lake, China


BMNH_20020555
Shores of Poyang Lake, China


USNM_334270
Soochow (canals) China
Page updated: 14:15:26 Wed 31 May 2023