The Freshwater Mussels (Unionoida) of the World (and other less consequential bivalves)
FM(U)otW(aolcb) is the web version of the MUSSEL Project Database. Follow the links to browse the data or use the custom Google search field. Either way, you win!
This page reports the specimens in the MUSSELpdb and provides a map if geocodes are known. The taxonomic history reports the record of different names and combinations that have been applied to this species (and its synonyms) since 2007.
Search the database pages:
---
Unionoida | Unionoidea | Unionidae | Ambleminae | Quadrulini | Uniomerus
species Uniomerus tetralasmus (Say, 1831): specimens
20 nominal species as synonyms
Range: Widespread in eastern North America, from Lake Erie south to the Gulf of Mexico and west to Colorado.
Map of Georeferenced Specimens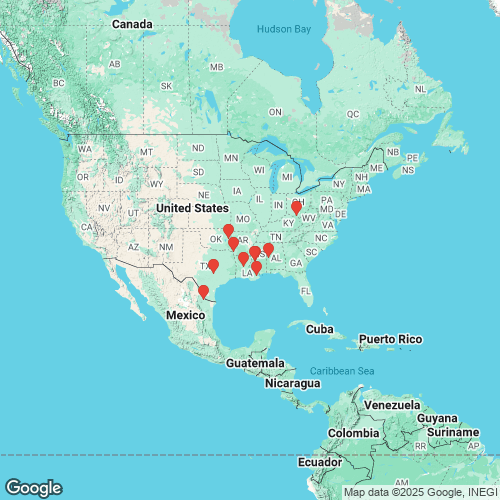 ---

Mexico


USNM_85709
Chihuahua, 60 mi from Camp Ringgold, Mexico


MCZ_169447
Chihuahua, 60 mi from Camp Ringgold, Mexico

---

USA


USNM_85604
Alexandria, La


ANSP_42847
Jackson, Miss.


ANSP_42852
small creek in Greene Co., Ala.


ANSP_41406
Canadian Fork, Arkansas River


USNM_85354
New Orleans, La


USNM_85356
Scioto R., Ohio


USNM_85365
Jackson, Miss.
Genbank Vouchers
USA
UF_438303 (UtetCol005) (COI, ND1, ITS1, 5.8S) USA, Texas, Travis County, Unnamed tributary of Hams Branch at Cameron Road, trib of Wilbarger Creek (30.3652663, -97.619918)
UF_438436 (UtetBaP011) (COI, ND1, ITS1, 5.8S) USA, Mississippi, Hinds County, Tallahalla Creek at MP 29.69, about 8.6 km S of Raymond (32.18353, -90.40645)
ANSP_353133 (28S)
UF_439488 (COI)