The Freshwater Mussels (Unionoida) of the World (and other less consequential bivalves)
FM(U)otW(aolcb) is the web version of the MUSSEL Project Database. Follow the links to browse the data or use the custom Google search field. Either way, you win!
This page reports the specimens in the MUSSELpdb and provides a map if geocodes are known. The taxonomic history reports the record of different names and combinations that have been applied to this species (and its synonyms) since 2007.
Search the database pages:
---
Unionoida | Unionoidea | Unionidae | Gonideinae | Contradentini | Yaukthwa
species Yaukthwa zayleymanensis (Preston, 1912): specimens
5 nominal species as synonyms
Range: Irrawaddy River, Myanmar.
Map of Georeferenced Specimens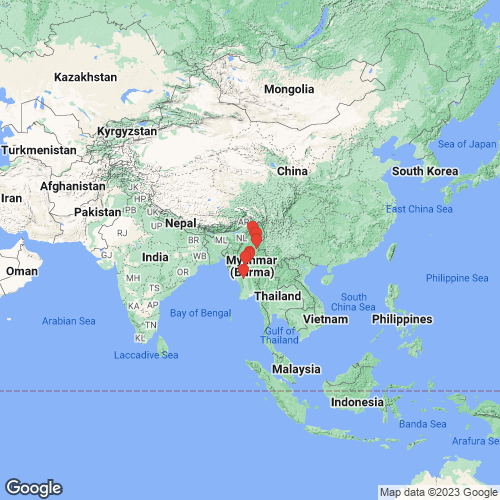 ---

Myanmar


UA_20733
Ayeryarwaddy River, mud bank on E side of river, Mandalay Division, Burma. 21.48187, 95.30501


BMNH_MP_D197
Shainmagah, Burma [95.985 22.283]


CAS_180855
BURMA [UNION OF MYANMAR]: Ayeyarwady River: Sagaing Division: Mingon: sandy island 0.78 mi N of Mingon 22.05815, 96.02353


BMNH_MP_D331
Bhamo


CAS_180793
Ayeryarwaddy River, across from Myint Gyant village.., Mandalay Division, Burma. 21.47327, 95.2973


SMF_3615
Zayleyman, Ob. Birma


UMMZ_110870
Zayleyman, India
Genbank Vouchers
RMBH_biv_679_1 (COI, 16S, 28S).
RMBH_biv_665_1 (COI, 16S, 28S) Myanmar: Ayeyarwady Basin, Bani River.
RMBH_biv_679_2 (COI, 16S, 28S).
RMBH_biv_918_2 (COI).
RMBH_biv_448_2 (COI).
RMBH_biv_899_1 (COI).
RMBH_biv_963_3 (COI).
RMBH_biv_918_1 (COI).
RMBH_biv_679_3 (COI).
RMBH_biv_917_2 (COI).
RMBH_biv_899_2 (COI).
RMBH_biv_917_3 (COI).
RMBH_biv_963_1 (COI).
RMBH_biv_918_3 (COI).
RMBH_biv_963_2 (COI).
RMBH_biv_666_6 (COI) MYANMAR: Bani River near Bangong village, 19.3247°N, 94.9839°E, Ayeyarwady Basin.
RMBH_biv_665_3 (COI) Myanmar: Ayeyarwady Basin, Bani River.