Page last updated
30 January 2004
Mussel of the Month
The February 2004 Mussel of the Month is Aspatharia rugifera. A. rugifera is a member of the strictly African freshwater mussel family Iridinidae.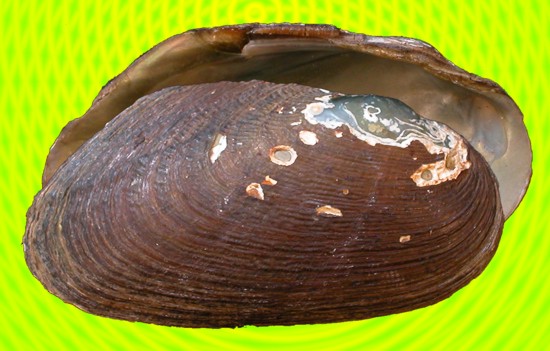 UMMZ 111952. Kribi River, 17 mi from Efulgen, Cameroon.
[This specimen is the type of Spatha kamerunensis Walker, 1910.]
Aspatharia rugifera is found in the rivers of southern Cameroon, Gabon, and the Congo Basin; Aspatharia is typically a West African genus with only a few eastern species. Until recently, many taxonomists included what is now considered to be the genus Chambardia (= Spathopsis) as a subgenus of Aspatharia.
Classification:
Phylum Mollusca
Class Bivalvia
Subclass Palaeoheterodonta
Order Unionoida
Superfamily Etherioidea Deshayes, 1830
Family Iridinidae Swainson, 1840
Genus Aspatharia Bourguignat, 1885
Species Aspatharia rugifera (Dunker, 1858)
For more information about Aspatharia rugifera, see:
Walker, B. 1910. A new Spatha. Nautilus 24(4):38-39 + 1 plate.
Mandahl-Barth, G. 1988. Studies on African freshwater bivalves. Danish Bilharziasis Laboratory, Charlottenlund, Denmark. 161 pp.
Daget, J. 1998. Catalogue raisonné des Mollusques bivalves d'eau douce africans. Backhuys Publishers, The Netherlands 329 pp.