Page last updated
1 March 2006
Mussel of the Month
The March 2006 Mussel of the Month is Mutela rostrata. Mutela is widespread in Africa, from the lower Nile south to the Zambezi.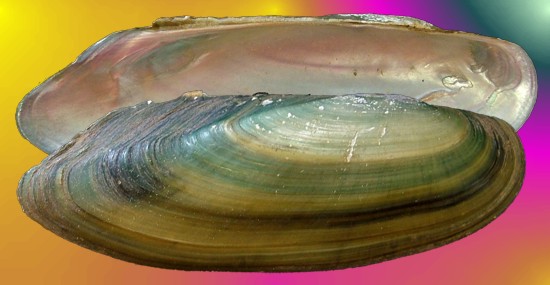 UMMZ 111986. Tropical Africa. ex Bryant Walker Collection.
Mutela rostata is among the most widespread species in Africa. According to the current concept of this species (see references below), M. rostrata is distribution from the lower Nile Basin, west to Senegal, and south into the Congo Basin. Unfortunately, our work to-date has demonstrated that the current concept of Mutela rostrata is flawed — it is probably far too lumped, especially with regard to the Congalese species.
Anatomically, the genus Mutela (like Pleiodon and Chelidonopsis) differs from the vast majority of other freshwater mussel genera in that it has actual siphons rather than widely unfused posterior apertures.
Classification:
Phylum Mollusca
Class Bivalvia
Subclass Palaeoheterodonta
Order Unionoida
Superfamily Etherioidea Deshayes, 1830

Family Iridinidae Swainson, 1840
Subfamily Iridininae s.s.

Genus Mutela Scopoli, 1777

Species Mutela rostrata (Rang, 1835)
For more information on Mutela and its siphons, check out:
Mandahl-Barth, G. 1988. Studies on African freshwater bivalves. Danish Bilharziasis Laboratory, Charlottenlund, Denmark. 161 pp.
Daget, J. 1998. Catalogue raisonné des Mollusques bivalves d'eau douce africans. Backhuys Publishers, The Netherlands. 329 pp.
Graf, D.L. & K.S. Cummings. (In press). Palaeoheterodont Diversity (Mollusca: Trigonioida + Unionoida): what we know and what we wish we knew about freshwater mussel evolution. Zoological Journal of the Linnean Society.