Page last updated
28 February 2005
Mussel of the Month
The March 2005 Mussel of the Month is Chelidonopsis hirundo. The genus Chelidonopsis occurs only in the Congo River basin in central Africa.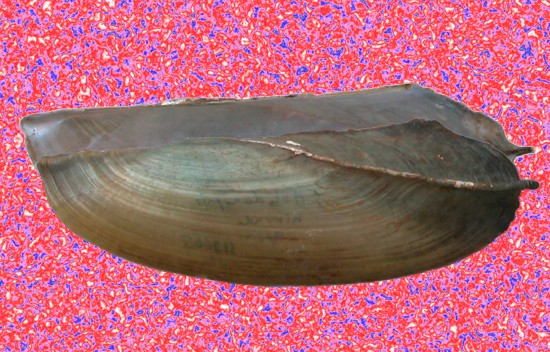 UMMZ 112003. Nsendwe, Congo Free State
[Lualaba River, Democratic Republic of the Congo], Africa.
There is very little known about Chelidonopsis. Specimens have been found at several localities in the Congo basin, from Malebo (= Stanley) Pool up to the Lualaba. Some authors (e.g., Mandahl-Barth) have treated Chelidonopsis as part of the genus Mutela, but C. hirundo is certainly distinct from other species, with the posterior parts of its valves pinched in bizarre tail-fins. We follow Daget (1998) in recognizing Chelidonopsis as distinct as a harbinger of Mutela's impending revision.
Classification:
Phylum Mollusca
Class Bivalvia
Subclass Palaeoheterodonta
Order Unionoida
Superfamily Etherioidea Deshayes, 1830
Family Iridinidae Swainson, 1840
Subfamily Iridininae s.s.
Genus Chelidonopsis Ancey, 1887
Species Chelidonopsis hirundo (von Martens, 1881)
For more information, check out the following:
Pilsbry, H.A. & J. Bequaert. 1927. The aquatic mollusks of the Belgian Congo. With a geographical and ecological account of Congo malacology. Bulletin of the American Museum of Natural History 53: 69-602 + 68 plates.
Mandahl-Barth, G. 1988. Studies on African freshwater bivalves. Danish Bilharziasis Laboratory, Charlottenlund, Denmark. 161 pp.
Daget, J. 1998. Catalogue raisonné des Mollusques bivalves d'eau douce africans. Backhuys Publishers, The Netherlands. 329 pp.