Page last updated
Fri 17 Jan 2020
The Freshwater Mussels (Unionoida) of the World (and other less consequential bivalves)
FM(U)otW(aolcb) is the web version of the MUSSEL Project Database. Follow the links to browse the data or use the custom Google search field. Either way, you win!
This page reports the specimens in the MUSSELpdb and provides a map if geocodes are known.
Search the database pages:
---
Bivalvia | Unionoida | Unionoidea | Unionidae | Ambleminae | Quadrulini | Quadrula
species Quadrula quadrula (Rafinesque, 1820): specimens
24 nominal species as synonyms.
Range: Widespread in the Interior, Nelson and Great Lakes basins, as well as the western Gulf Coastal Plain, North America.
Map of Georeferenced Specimens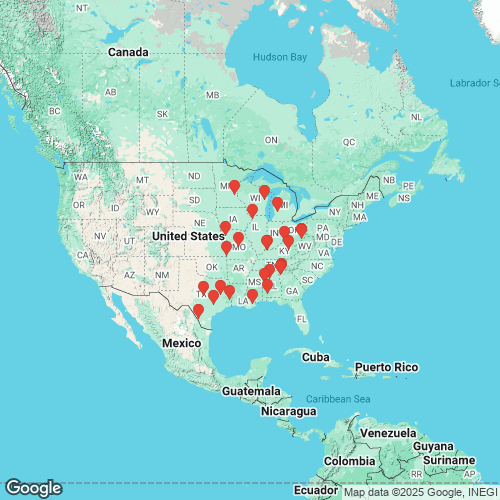 ---

USA


USNM_84165
Cincinnati, Ohio


USNM_84169
Texas


USNM_84172
Leon Co., Texas


USNM_84174
Cincinnati, Ohio


USNM_84189
West Georgia


USNM_84190
Othcaloosa Cr., Ga.


USNM_84212
Claiborne, Ala. R., Alabama


ANSP_20224
Salt River


UMMZ_209203
Fox River, nr. De Pere, Wisc.


CM_61.6892
Lake Contrary, St. Joseph, Buchanan Co., Missouri

type locality
Page updated: 10:03:17 Fri 17 Jan 2020